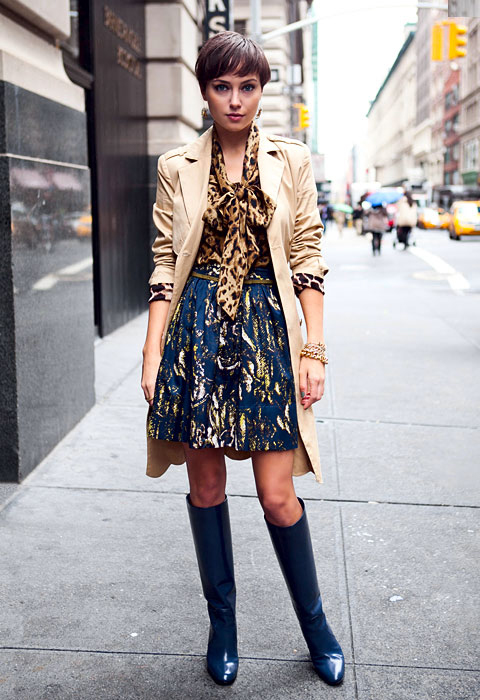 The Glamourai blogger mixes two classics — the trench and leopard.
I love my job because… I get to inspire others to make every day a little more glam.
Besides the Glamourai, my favorite blogs are… Desire to Inspire, Design*Sponge and Coco+Kelley.
In this picture I'm wearing… Tory's perfect leopard Bow blouse, a L'Ecole des Femmes trench, a Shulami skirt and Bottega Veneta boots.
When I wear leopard, I feel… ready for anything!
My style mantra is… invest in timeless, ageless necessities. Buy your trends cheap, your jewels big.
A great stype tip is… everything looks better when it's been professionally pressed.
My mother taught me… to ruthlessly edit my wardrobe so that every time I open my closet I see what I want to wear right this moment.
My sign is… Virgo.
A perfect night in New York is… a boisterous dinner with friends at Frankie's, followed by drinks next door at Salt.
I get into the holiday spirit… by littering my apartment with evergreen boughs. It's more modern than the traditional tree.
I'm committed to… Women in Need, GoPink, Kyle's Treehouse.