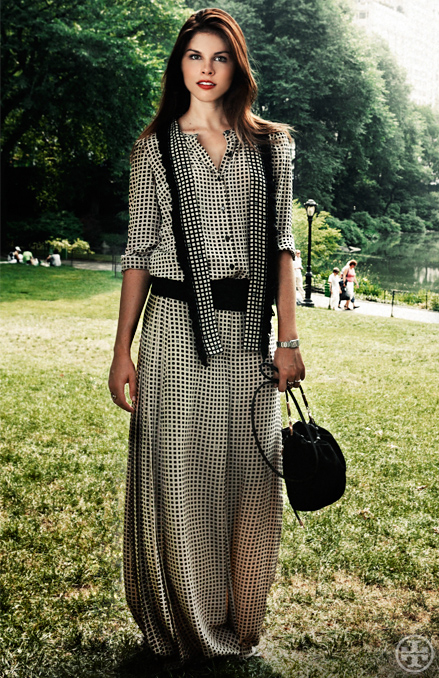 Into the Gloss' Emily Weiss wears Fall 2011 long and loose.
I love my job because… beauty never gets old.
My favorite fall getaway is… Connecticut, for thrift shopping and antiquing. Heck, it's my favorite getaway year round.
In this picture, I am wearing… Tory Burch's Waverly blouse and Prester pant, Salvatore Ferragamo bag, Cartier watch, Maison Martin Margiela and antique rings. Dolce & Gabbana lipstick in Venere.
I would wear this look to… lunch with Yves Saint Laurent in 1977.
My style mantra is… pick a few favorite items and keep them in heavy rotation. This outfit is great because it's impactful when worn together but also versatile as separates that can be mixed and matched.
The best piece of fashion advice I ever received is… "Bring a sweater." — My mom
What I love most about fall… big sweaters and back to work.
My sign is… Aries.
My charity is… Vineyard Arts Project.
If I lived anywhere other than New York… it would be Venice Beach, CA, or a rural plot of land somewhere warm, growing vegetables and doing yoga and generally operating totally off the map.