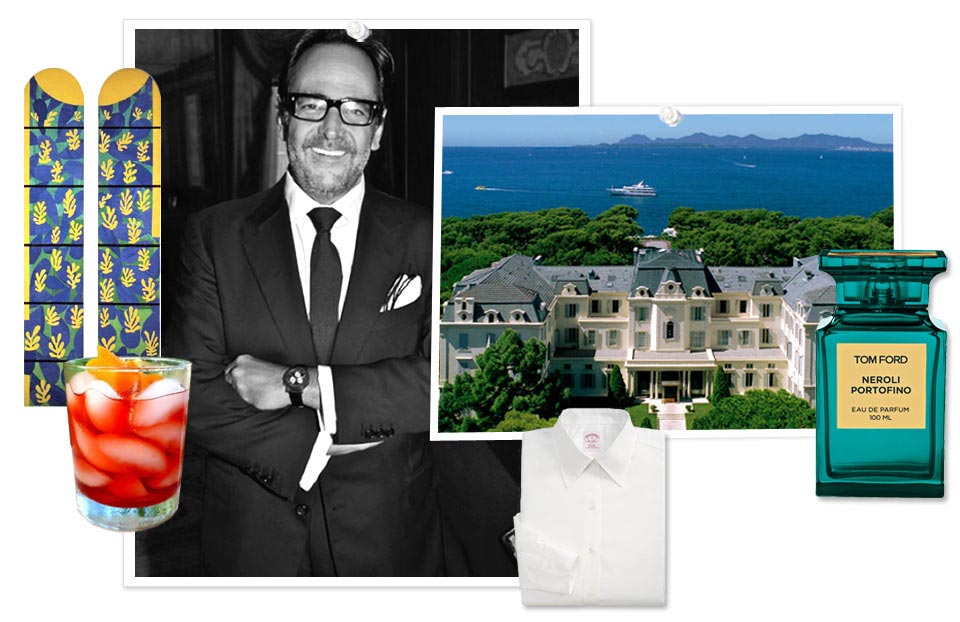 Departures' Editor-in-Chief just returned from the South of France.
WHERE I'VE BEEN…

Antibes to the Hôtel du Cap-Eden-Roc

WHAT I PACKED…

Five no-iron, all cotton Brooks Brothers slim fit white shirts, 15 1/2-32; Brunello Cucinelli white jeans; The Last Werewolf by Glen Duncan

TRAVEL TIP…

Tide-to-go sticks

WHERE TO GET INFORMATION ONLY A LOCAL WOULD KNOW…

A Food Lover's Guide to the Côte d'Azur prepared for Departures' by long-time friend Gillian Duffy, culinary editor of New York magazine and part-time resident of Cannes

BY DAY…

Diving into the Med from Eden-Roc cabana no.502 and worshipping at the Matisse Chapel in Vence

BY NIGHT…

Driving 25 minutes into Nice for dinner (outside) of roast chicken stuffed with foie gras and a side order of mashed potatoes at La Petite Maison, the second best restaurant in the world

PREFERRED SPORT…

Watching for the comings and goings of Madonna and Lourdes who, along with a crew of 15, were here last weekend for a little sunbathing at a private cabana — actually they took two for the day.

GROOMING TIP…

Julien Farel's Restore-Hydrate shampoo from Monaceli, and Tom Ford's Neroli Portofino parfum

FAVORITE FALL DRINK…

Negroni sbagliato (the "anti" Negroni and made with prosecco not gin) served best at Il Posto Accanto, the most authentic Roman trattoria in New York

Playlist…

Obsessed I Am by Energy 52 Café 52 (Deadmau5 remix) from Ibiza.