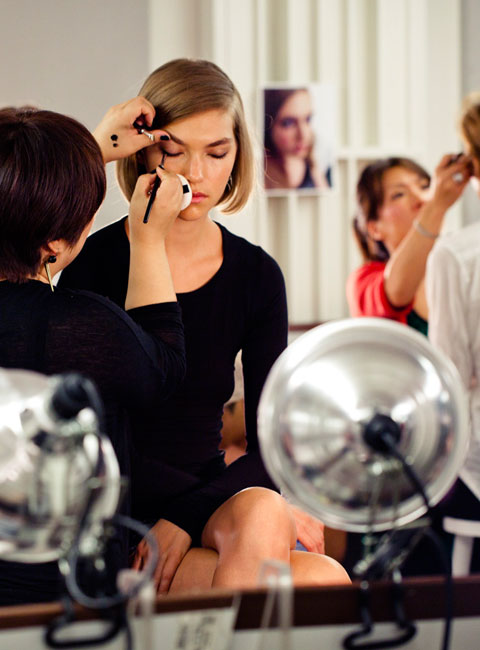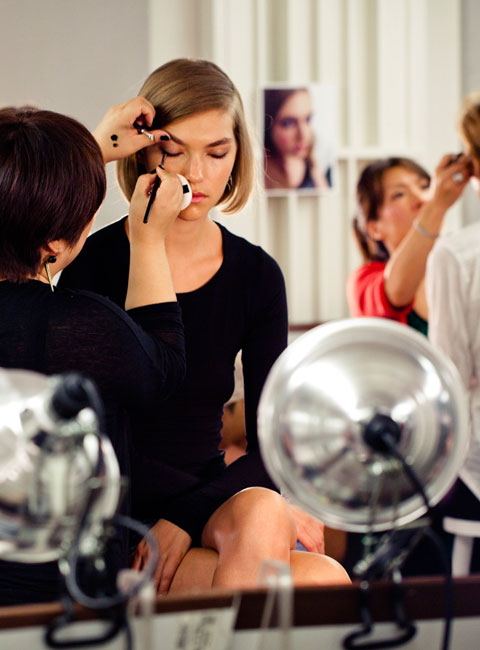 An hour before our show, model Arizona Muse sits patiently in hair and makeup. Here, notes from the beauty experts.
The Hair
Stylist: Eugene Souleiman
Beauty Brief: "Very simple, masculine bobs girls wore in the Twenties."
Get the Look: Spray bristle brush with Wella's Shimmer Delight for shine. To tame fly-aways, spray hair with Wella's Perfect Setting before blowing out hair. Pull hair down and back into ponytail creating a rounded poof, like a bob. Finish with Wella's Ocean Spritz for texture.
The Makeup
Stylist: Di Kendal
Beauty Brief: "French Riviera, Twenties-era, fresh, young, with a smoky eye."
Get the Look: Line top and bottom lid with MAC's Coffee eye pencil. Apply Black Crème Liner close the lash line. On lids, brush Fusion Gold eyeshadow close to corner of eye and blend with Venetian Tarnish for a bit of sheen. Apply Haute & Naughty mascara on the outer corners of the eye. Dab Cream Blend Blush in Florida on cheeks for a natural blush.