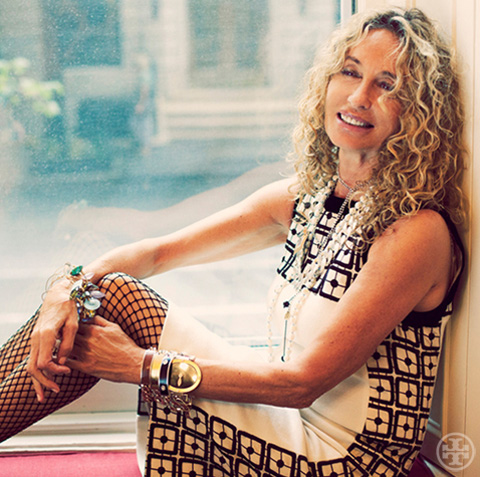 The jewelry and rock royalty on style.
In this picture I'm wearing… Tory Burch Denise dress, Ann Dexter-Jones bracelets and necklaces and Pink lizard shoes by Manolo Blahnik.
I would wear this… Everywhere, during the day with heavy black tights and at night with fishnets.
Best piece of fashion advice I ever received… I'm still waiting to hear it.
My style mantra is… I believe in overkill. My rule is that there are no rules.
I am inspired by… art, music, indie movies. I meditate and then the visuals come to me. I get a lot of inspiration from traditions, like giving a young girl a pearl necklace. My version with seed pearls (that I'm wearing in this photo) was inspired by my daughter Samantha because she's petite. I was listening to Wilson Pickett's In the Midnight Hour when I thought about making a watch with a diamond hand that doesn't move – it's always midnight so you never have to leave the party.
I love design because… I get to watch the puzzle of wonderful colours, gems, metals and ideas come to fruition.
My jewelry is… custom-made by artisans of the old school, something that cannot be produced en masse.
My favorite charity is… The Joyful Heart Foundation.
My sign is… on the cusp of Pisces and Aquarius. When I was a child, I never knew whether to zig or zag.