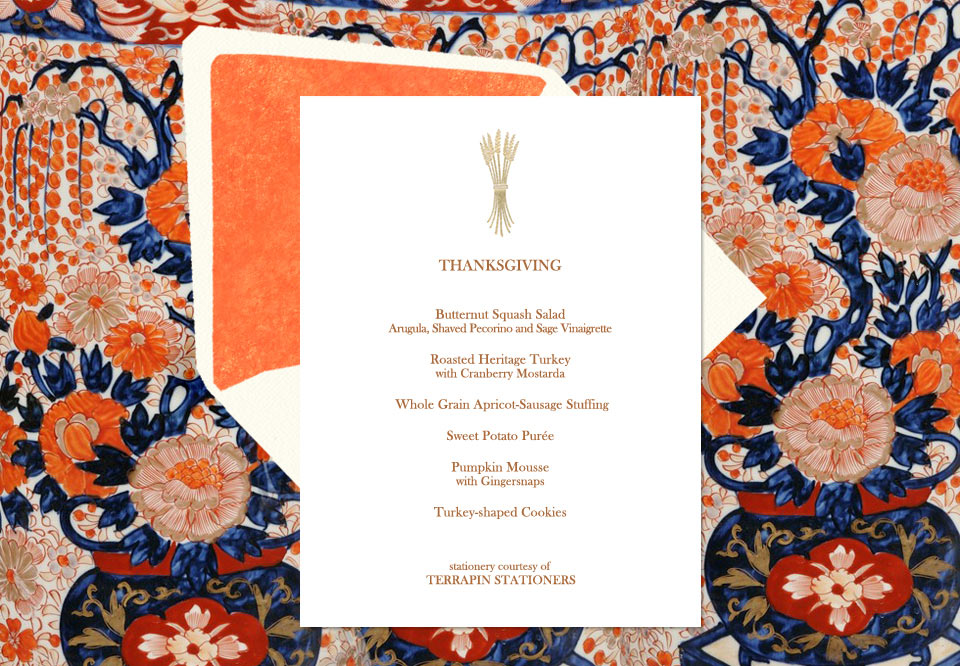 BUTTERNUT SQUASH SALAD
WITH ARUGULA, SHAVED PECORINO AND SAGE VINAIGRETTE
Serves 6
1 butternut squash
4 cups of baby arugula, washed and dried
1 tbs lemon juice
2 tsp red wine vinegar
1 tbs minced shallots
¼ cup extra virgin olive oil
2 medium sized sage leaves, minced
½ cup toasted pine nuts
2 oz aged Pecorino shaved with vegetable peeler
Salt and freshly ground pepper to taste
In a small bowl, mix the lemon juice, vinegar and shallots. Season with salt and set aside.
Cut the bulbous end off of the squash and reserve for another use. Peel the skin from the remaining squash and cut in half lengthwise. Using a mandoline set to the thinnest setting, slice the neck of the squash lengthwise into long, thin ribbons and place in a large bowl.
Whisk all but 1 tsp of oil into the lemon-vinegar-shallot mixture. Add the sage and whisk again. Pour the dressing over the squash and toss to combine. Season to taste with salt and pepper.to air-dry before filling the glass to avoid too much salt coming off the glass with each sip.
Place the arugula in a medium sized bowl. Drizzle over the reserved teaspoon of olive oil, season with salt and pepper and toss to combine. Add the arugula to the large bowl with the squash and mix to combine. Divide the salad evenly among 6 chilled plates. Shave the pecorino over the each salad, sprinkle the pine nuts over top and serve immediately.
ROASTED HERITAGE TURKEY
WITH CRANBERRY MOSTARDA
1 Heritage turkey, 12-15 pounds
4-5 thyme sprigs
5-6 sage leaves
1 rosemary sprig
4 cloves of garlic
salt
Freshly ground pepper
extra virgin olive oil, melted butter or duck fat
Preheat oven to 350 and position oven rack at the lowest level of oven. Remove innards from bird and reserve to make sauce. Generously rub inside of turkey cavity with an abundant amount of salt and pepper. Place herbs and garlic inside turkey, then truss bird with butcher's twine.
Rub outside of turkey generously with salt and pepper, then rub skin with a generous amount of olive oil, melted butter or duck fat. Place turkey in roasting pan breast side up on a rack. Place in oven legs first.
Baste turkey with pan drippings every 30 minutes. Roast turkey until instant thermometer plunged into the thickest part of thigh registers 160 degrees (typically 12-15 minutes of roasting time per pound of turkey).
Allow turkey to rest for at least 20 minutes before carving.
CRANBERRY MOSTARDA
1 pound of fresh or frozen cramberries
1¾ cups of sugar
3 tbs mustard powder
2 tbs brown mustard seeds
2 tbs yellow mustard seeds
1 cup water
salt and pepper to taste
½ tsp red wine vinegar
A nice alternative to cranberry sauce and an excellent complement to heritage turkey.
Combine water and mustard powder and whisk together. Place in a heavy bottomed saucepan with remaining ingredients. Bring mixture to a boil, then lower heat and allow to simmer until cranberries are just beginning to burst. Taste for seasoning and adjust as necessary. Remove from heat and allow to cool. Serve with roasted meats and cheeses.
*If you cannot find heritage turkey at your local farmer's market, go to www.localharvest.org for a listing of farms in your area. Heritage turkeys are also available via mail order from www.dartagnan.com.
APRICOT-SAUSAGE STUFFING
Yields 14-16 Cups
1 pound of bulk sweet Italian pork sausage
1 tbs olive oil
3 cups of dried apricots, quartered
¼ cup Manzanilla or Amontillado Sherry
4 Tb unsalted butter
2 cups diced onions
1 cup diced celery
¼ cup minced fresh parsley
1 tbs minced fresh sage
1 tbs fresh thyme leaves
1 tsp chopped fresh rosemary
1 tsp salt
¾ tsp freshly ground black pepper
8 oz chicken stock
2 eggs, well beaten
1 tsp fresh lemon juice
1 lb whole grain bread, cut into half-inch cubes then dried out overnight (about 10 cups)
Preheat oven to 350. Heat oil in large skillet. Add sausage and cook until browned. Transfer cooked sausage to paper towel lined plate, pour sausage drippings through fine meshed strainer into clean bowl or measuring cup and set aside. Off the heat, pour sherry into skillet to deglaze pan. Using a wooden spoon, scrape browned bits off bottom of pan. Add dried apricots to pan and stir around to coat with sherry. Set aside.
In a clean saute pan, heat reserved sausage drippings and butter. When butter has melted and foam subsides, add onions and celery and cook until they begin to become tender, 5-10 minutes. Remove pan from heat and add herbs, salt and pepper.
Place this mixture into a very large bowl with sausage, apricots and pecans. Add bread cubes and mix gently.
Whisk together chicken stock, eggs and lemon juice. Pour into bowl with bread mixture and combine thoroughly. If stuffing feels dry, add a bit more stock if necessary.
Spread stuffing into a shallow buttered baking dish. Bake for 30-40 minutes until stuffing is heated through and top has formed a crust.
SWEET POTATO PURÉE
2½ pounds sweet potatoes
½ cup heavy cream
½ cup whole milk
1 cinnamon stick
1 star anise
4 tbs butter, melted
salt and pepper
Bake the sweet potatoes in a 350 degree oven until very tender (a knife or toothpick inserted into the center of the potato should offer no resistance).
Pour the cream and milk into a heavy bottomed saucepan. Add the cinnamon stick and star anise. Simmer over low heat to allow the spices to infuse the mixture.
When the sweet potatoes are cool enough to handle, cut them in half, scoop out the flesh and pass through a food mill into a warmed bowl.
Add the hot melted butter to the potatoes and mix thoroughly. Remove the spices from the milk mixture and stir into the sweet potatoes. Season to taste with salt and pepper. Pass the mixture through a tamis or medium-meshed sieve (if you do not have one, it is fine to omit this process- the dish will just be a bit more chunky). Serve hot.
PUMPKIN MOUSSE
6-8 SERVINGS
15 oz pumpkin puree (recipe follows)
¼ cup Myers Dark Rum
2 tsp unflavored gelatin powder
½ cup granulated sugar
½ cup of light brown sugar, packed
2 large egg whites
a few pinches of salt
1½ cups of cold heavy cream
Additional sweetened whipped cream for serving
Pour rum in stainless steel bowl and sprinkle in gelatin. Allow to set for 10 minutes.
In another bowl, whisk brown sugar into pumpkin puree.
Heat ½ cup of puree in saucepan. Add gelatin and whisk over medium heat until dissolved. Blend warm pumpkin/gelatin mixture into remaining pumpkin puree.
Add egg whites, salt and sugar to bowl from stand mixer. Set bowl over a pot of simmering water and whisk constantly until mixture reaches 145 degrees on thermometer. Transfer to stand mixer and whip on high until stiff peaks form and meringue cools. Whip heavy cream to medium peaks.
Gently fold 1/3 of meringue into pumpkin mixture. Fold in remaining meringue. Fold in whipped cream. Spoon mousse
into serving glasses and cover with plastic until mixture sets.
Serve with dollop of sweetened whipped cream and gingersnaps.
PUMPKIN PURÉE
1 large cheese pumpkin (You may substitute hubbard squash or butternut squash)
1 vanilla bean
½ tsp ground cinnamon
2 tsp orange zest
¼ tsp freshly grated ginger
1/8 tsp ground cardamom
Preheat the oven to 375 degrees. Cut the pumpkin in half and scrape out the seeds. Place the halves cut side up on a lined baking sheet and bake until tender and soft (about 1 1/2 hours).
When cool, scrape out the pumpkin flesh and puree in a food processor until smooth. Line a sieve with a double layer of cheesecloth and rest it over a bowl. Place the puree into the sieve and let it to drain overnight in the refrigerator.
The next day, place 15 oz of the puree into a food processor (you can use the drained pumpkin liquid as stock in squash or pumpkin soup). Score the vanilla bean lengthwise and scrape the pulp into the pumpkin puree. Add the cinnamon, orange zest, ginger and cardamom. Puree the mixture, then drain into a fine sieve and set aside for the pumpkin mousse recipe.
GINGERSNAPS
Makes 70 cookies
1½ cups packed dark brown sugar
1½ cups softened unsalted butter
¼ cup molasses
1 large egg
1 tbs grated fresh ginger
1 tsp lemon zest
3¾ cups unbleached all purpose flour
1¼ tsp baking powder
2 tbs ground ginger
3 tsp ground cinnamon
½ tsp ground white pepper
¼ tsp ground allspice
2 tbs turbinado sugar
Beat the sugar and butter in an electric mixer with a paddle attachment until light and fluffy. Add the molasses, egg, fresh ginger and lemon zest and beat until well mixed.
In a separate bowl, whisk together the flour, baking powder, ground ginger, cinnamon, white pepper and allspice. Gradually add the dry ingredients to the butter mixture and combine well. Wrap tightly in plastic and refrigerate overnight.
Preheat the oven to 350 degrees. Using a small spoon, scoop one piece at a time and roll into a ball with the palm of your hands. Place each ball on a parchment-lined cookie sheet and flatten with the bottom of a well-floured glass. Sprinkle the top of each cookie with turbinado sugar. Bake for 10 minutes or until crisp, rotating the tray halfway through to ensure even baking.
Cool the cookies on a wire rack and serve with the pumpkin mousse.
REVA'S MOM'S TURKEY COOKIE RECIPE
Makes 60-70 cookies
2 Cups Sugar
1 Cup Butter
3 Large Eggs
1 Tbs. Grated lemon rind
4 Tbs. Brandy
3 Cups Flour
3 Tsps. Baking Powder
1 Tbs. Salt
Cream the sugar and butter until smooth. Add the eggs one at a time. After addig each one, stir really well. Stir in the grated lemon rind and Brandy. Sift in the flour, baking powder and salt ….and stir in a little at a time until well combined and compact enough to roll out. Divide the ball of dough into 2 or 4 parts.
Take one part and roll out to 1/8 of an inch thickness or slightly thinner. (Get turkey cutters) and cut into turkey shapes.
Place cookies on a lightly greased and floured cookie sheet and bake at 375 degrees for 10 to 12 minutes or until edges start turning brown. Quickly remove them from the baking sheet and place on tray. When cool, decorate with your imagination.
Recipe courtesy of Tory's grandmother and Chef Dana Minuta; stationery courtesy of Terrapin Stationers