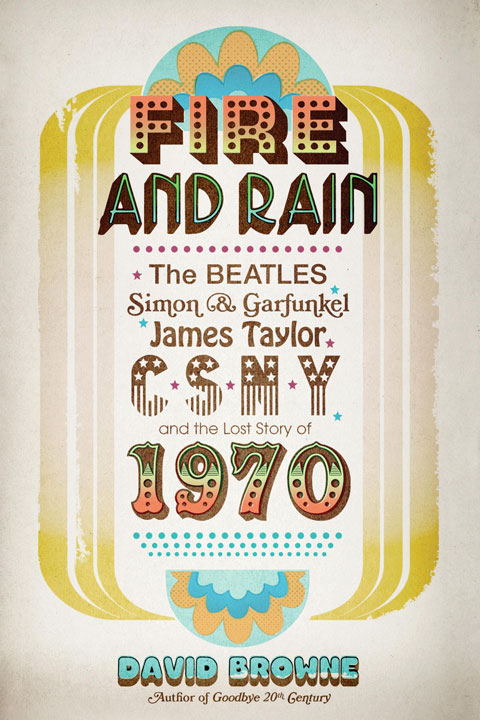 David Browne, author of Fire and Rain, on why 1970 — and not Woodstock's 1969 — ushered in a new sound (and culture).
Why 1970? It saw the collapse of so many landmarks of the Sixties, from the Beatles and rock festivals to the space program, the anti-war movement and the radical left. At the same time, 1970 ushered in much of what we came to associate with the Seventies, like the eco movement (the first Earth Day was in '70) and the sensitive singer-songwriter (James Taylor and his peers). Those 12 months truly were a period when one era ended and another, very different one began. We really never were the same after.
Why the Beatles, CSN&Y, S&G and James Taylor? Each embodied a different aspect of that transitional movement in music (and the culture in general): The first three are iconic bands of the Sixties who all broke up or officially splintered in 1970, while Taylor (who was virtually unknown at the beginning of '70 but was a star by year's end) personified the inward-looking, more "mellow" music that came to dominate the Seventies.
Favorite uncovered little-known fact while researching Fire and Rain… Paul Simon taught a low-key, un-publicized songwriting class at NYU in the spring of 1970. Another: Paul McCartney's legal team served his fellow Beatles with breakup papers on December 31, 1970. They weren't thrilled, starting with the fact that this all put a damper on their New Year's Eve plans.
What were you doing in 1970? I turned 10 that year, so mostly I was being a kid in elementary school in New Jersey. It's funny — I have vivid memories of hearing about the moon landing in 1969 and RFK's assassination in 1968, but my memories of 1970 were hazy. When I realized how much actually happened that year, I realized it truly was a "lost" year.
Who are you listening to right now? I'm at work on a biography of the Grateful Dead, so I'm listening to lots of live recordings.
First concert memory… Paul Simon at Carnegie Hall, 1972. My parents, my aunt and I drove in from Jersey without tickets. At the box office, we learned it was sold out, but a very elegantly dressed man lingering outside asked if we wanted his tickets. He said he worked for Simon's record company, Columbia. We paid $4 each, face value, and wound up in second row center. He really did work for the record company. Paul's brother was sitting right next to us. An amazing experience in so many ways.
Song you never get tired of… The live version of Crosby, Stills, Nash & Young's Ohio, from 4 Way Street, never fails to send a chill down my spine.