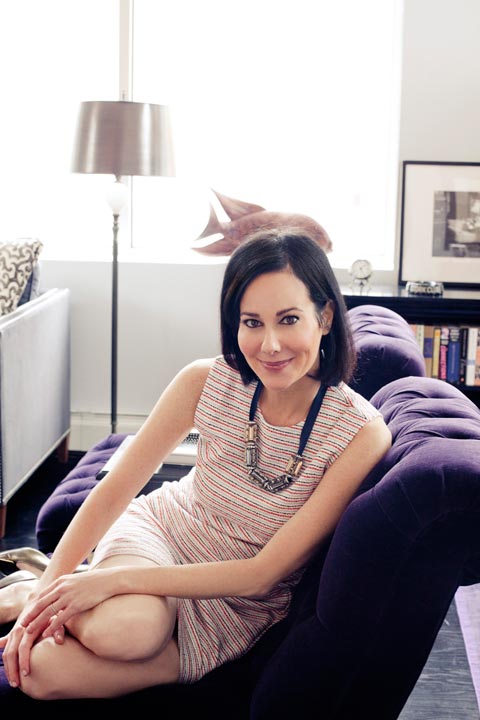 Punch Hutton,
Vanity Fair's
Deputy Editor and designer of
Punch Shifts,
wears her own dress and a custom Tory Burch necklace. Photographed in her New York City home by Noa Griffel.

7:30 AM

Walk to Joe Coffee, on 13th Street, for iced coffee…and a berry scone for my daughter Ellery.

9:00 AM

Nanny arrives. Rush to get out the door for work at Vanity Fair. A beautiful office in the middle of Times Square mayhem.

11:00 AM

Editors' meeting in Graydon Carter's office to discuss future issues.

1:00 PM

Lunch at desk (Chop't salad). Check all Punch Shifts correspondence — inventory, sales and inquiries. Place daily phone call to Lindsey, who pretty much runs the company.

2:30 PM

"Fanfair" production meeting. This includes assigning writers, setting up photo shoots and figuring out how to meet deadlines!

3:30 PM

Work on next issue layouts with Paloma, who designs both the "Fanfair" and "Fairground" sections.

6:00 PM

Head home to meet Lindsey before she makes a drop-off at FedEx. Construct boxes and pack dresses for people who've ordered shifts via email.

7:00 PM

Read and play Crazy Eights with Ellery before putting her to bed.

8:30 PM

Meet my husband John and our friends Michael Hainey and Brooke Cundiff at Il Posto Accanto on the Lower East Side for dinner.