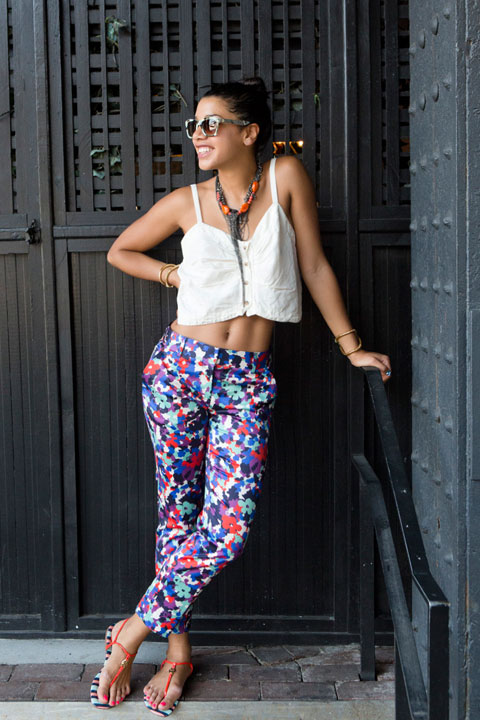 Social entrepreneur Hannah Bronfman talks to us about sustainability and style.
My story is… Born and raised in New York City, I graduated from Bard College with a B.A. in Fine Arts and now I'm working on a local food initiative and some apps. I'm a big foodie and am an investor in two restaurants in the city: Acme and Hotel Griffou. Sustainability is also very important to me – I try to apply it to everything I work on, from music and food to health and fashion. The more people talking about it, the better.
My style mantra is… It's important to wear clothes that make you feel comfortable and that are made for your body type. If it fits, you'll wear it with more confidence and look better.
In this photo I am wearing… A Dannijo necklace from the first collection, a Rachel Comey top and Tory, Tory, Tory [Tory Burch Tribley pant, printed Emmy sandal, two Lock bracelets].
When I get ready to go out I listen to… Everything from Frank Sinatra to Nicki Minaj.
Best style advice I ever received was… from my dad who told me, "Wear as many short dresses as you can while you're young."
Musician whose style I love the most… Florence Welch. I recently saw her in concert and she's so whimsical, her voice is so majestic. She wears these long, flowy dresses that are kind of fitted at the waist – a little bit of a Great Gatsby feel. She's luminous.
Most stylish summer music fest… It's hard to be stylish at a summer music festival because it's so hot but SummerStage [in Central Park] really brings out an eclectic crowd of New Yorkers.
What makes a great playlist? You've gotta have some variety – a little bit of Top 40, some classic, classic rock and a few indie dance songs.
My charity is… Kageno.
My sign is… Scorpio.