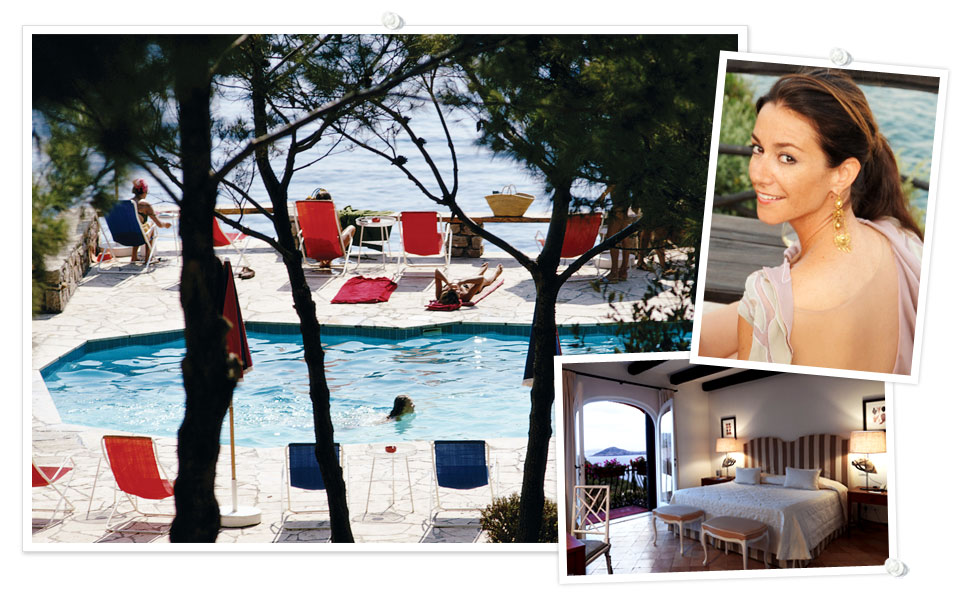 Designer Marie Louise Sciò's childhood reads a lot like Eloise-meets-La Dolce Vita. Her parents owned Tuscany's storied Il Pellicano hotel, which played host to everyone from the Casiraghis to the Fendis and Missonis (and it's one of Tory's favorites). Now a Rome-based architect and interior designer, Sciò has put her own stamp on the place: She remodeled the rooms and wrote a book about it. Here, she gives us an insider view.
My fondest childhood memory of Il Pellicano is…
I remember as if it was yesterday the gala dinners my parents organized around the candle-lit swimming pool overlooking the sea. Everyone was so chic, men wore seersucker suits and women wore long beautiful gowns and turbans. I was too young to attend so my brother Roberto and I used to hide in the bushes and spy on these magical evenings!
The best advice my parents gave me is…
To believe in myself and never follow the crowd.
My favorite spot at the hotel is…
The pool bar.
My favorite meal at the hotel is…
Squid ink risotto and the lamb at the two-star Michelin restaurant. At the Pelligrill restaurant, my favorite is the papa al pomodoro and the grilled octopus with puree.
The current project I'm most excited about is…
A cookbook but I can't say too much about just yet!
My design obsession is…
Love bathrooms and great closets.
My favorite blog is…
Dissonanze, a music blog.
My definition of glamour is…
A combination of style and culture. For me, glamour is my mother — understated, always chic and incredibly interesting.
My charity is…