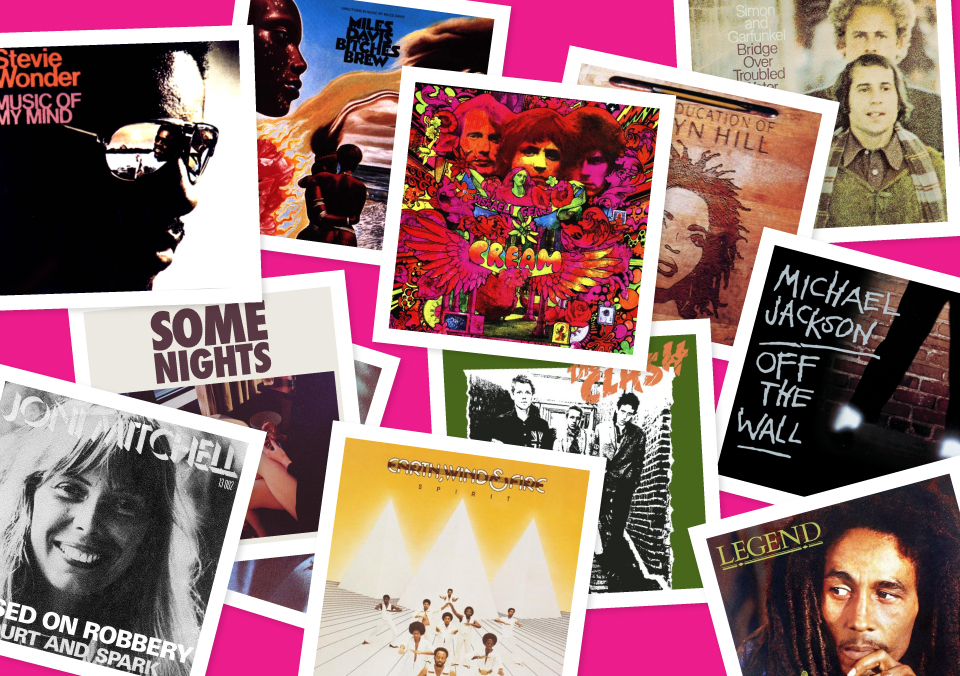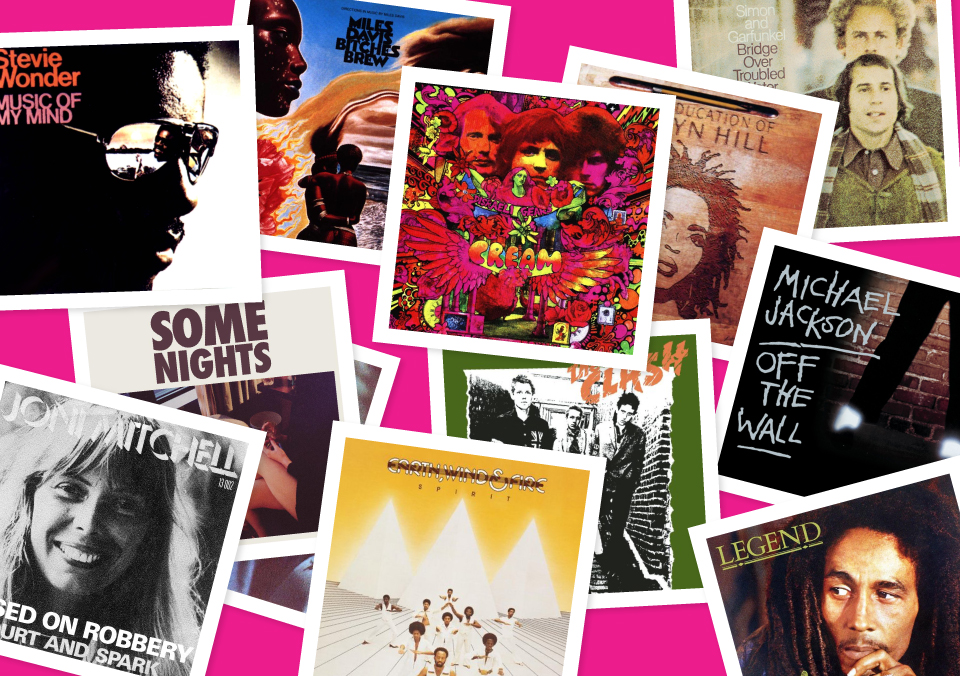 What artist or album changed your life? And what album never gets old?
Madonna
"True Blue by Madonna was the first album that I bought on my own when I was a kid. He Loved Him Madly by Miles Davis has many memories attached to it and stands the test of time." — Geordon Nicol, DJ, The Misshapes
Michael Jackson
"I remember roller skating to Off the Wall by Michael Jackson every weekend at our local disco Rollerama, in my pink sequin tube top and green terry-cloth short shorts. Still Bill by Bill Withers speaks to my loneliness, my passion, my joy and my solitude." — Sally Taylor, singer and songwriter
fun.
"The first song I ever memorized was Morning Morgantown by Joni Mitchell. Now: I am loving the new fun. album. We play it all the time in the van while on tour." — Brittany Holljes, singer, Delta Rae
Simon & Garfunkel
"For rock, it came down to Simon & Garfunkel's Bridge Over Troubled Water. I must have listened to it every day until I was ten and could buy my own music. I never get tired of Sympathy for the Devil by the Rolling Stones." — Sally Singer, editor-in-chief, T: The New York Times Style Magazine
The Clash
"The Clash's first album." — Serge Becker, restaurateur, Super Linda, Miss Lily's, La Esquina
Lauryn Hill
"Lauryn Hill's The Miseducation of Lauryn Hill. I'm always obsessed with Brandy's Full Moon album." — Amy Heidemann, singer, Karmin
Cream
"Cream's Disraeli Gears was my introduction to electronic rock. It was like traveling to another world and also marked a sudden loss of innocence. (I was 13.) Frank Sinatra, the Golden Age of America. Confident, clear, beautiful and, yes, innocent." — Lisa Phillips, director, New Museum
James
"Laid by James has been such a constant. The Vines' first record. There was this one song that made me feel like I was falling, like when your stomach rises up to your throat." — Alex Kandel, singer, Sleeper Agent
Sade
"Sade. My dad listened to her all the time. Right now: Little Dragon — the band is really cool!" — Rita Ora, singer and songwriter
Whitney Houston
"Whitney Houston, Michael Jackson, Lauryn Hill, R. Kelly and Mariah Carey…" Rye Rye, rapper
Bob Dylan
"The one constant has always been Bob Dylan. I never get tired of Ryan Adams' Heartbreaker. It's a perfect album with the most touching love songs." — Mandy Stein, owner, Plain Jane Productions
Bob Marley
"Bob Marley's Legend. I found a tape in my house that a guest must have left (my folks definitely didn't listen to Marley). I put it in my Walkman one night before bed and fell in love." — Josh Crosby, co-creator, Indo-Row and ShockWave
Earth, Wind & Fire
"Earth, Wind & Fire. I was a freshman in college at the University of Wyoming when I heard them. I was like, yes, this is my music, these are my people. Stevie Wonder's Music of My Mind. Not a bad song on the album." — Lisa Eisner, photographer, stylist and co-founder, Greybull Press
Joni Mitchell
"Court and Spark by Joni Mitchell made me feel like somebody understood. And then later, London Calling by the Clash made me feel like nobody did. Wilco's A Ghost Is Born. The summer after it was released I listened to almost nothing else and pretty much every song on it still has the power to send a shiver up my spine." — Kim France, blogger and journalist
The Beatles
"For my 10th birthday, my parents gave me a cassette of Revolver by The Beatles. I remember sobbing when I heard "For No One" knowing it was possibly the saddest song, but not quite understanding lost love. I just knew it was BIG. That album made me truly emotional about music. I still love the album Wave by Antonio Carlos Jobim. It reminds me of long days, summer, cocktails, friends, and the beach. Honorable mentions: Sweet Baby James by James Taylor, Comes A Time by Neil Young. These are my summer comfort food." — Anne Litt, DJ, KCRW