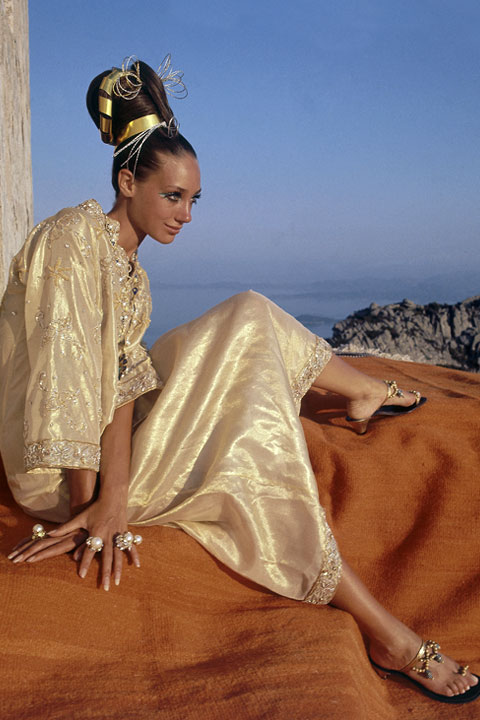 The mecca of beau monde locales has always been Morocco. It drew Sixties style icons Talitha Getty and Marisa Berenson, who epitomized its bohemian glamour. (See above pic for a case-in-point.) Diana Vreeland loved the place (her son Frederick became its U.S. ambassador); Lanvin's Alber Elbaz was born there, and Ginevra Elkann exchanged vows at her grandmother Marella Agnelli's sprawling Marrakech estate. And, of course, there's Yves Saint Laurent, who is virtually synonymous with the country — it was his second home and constant source of inspiration. Morocco's impact on style endures. But its gravitational pull goes beyond fashion. Did you know that…
1. Tangier was a hub for beat culture: Jack Kerouac and Allen Ginsberg visited often while William S. Burroughs's seminal novel Naked Lunchwas inspired by his experiences in the city.2. Winston Churchill was a regular guest at La Mamouniaand even has a suite named after him. The room overlooks the gardens he frequently painted.
3. More La Mamounia mythology: Alfred Hitchcock is said to have been inspired to write The Birds after seeing the hotel's bird-filled balconies. He was there shooting The Man Who Knew Too Much.
4. Legend has it that Jimi Hendrix was inspired to write Castles in the Sand after seeing the watchtower ruins in Essaouira. But that's a myth — the song came out two years before he actually traveled to Morocco.
5. Model Jacquetta Wheeler has a family home in Tangier called Dar Sinclair. Dar means "home of" while the Sinclair is her great-grandfather, Jack Sinclair, who built it. In WWII, the place was used as a secret radio transmitting station for the Allies.
6. Matisse was taken with the country's vibrant colors — so much so that New York's Museum of Modern Art staged a Matisse in Morocco exhibit back in 1990.
7. Richard Branson's sister Vanessa founded the Marrakech Biennale in 2005. She owns the the city's Riad El Fenn boutique hotel, too.
8. Esther Freud (daughter of painter Lucien Freud and great-granddaughter of Sigmund Freud) based her debut novel Hideous Kinky on her childhood years in Morocco, where she lived briefly with her mother Bernadine and sister Bella, the fashion designer.
9. Tennessee Williams reportedly wrote an early draft of Cat on a Hot Tin Roof at a beach-front restaurant in Tangier called Sun Beach.
10. Malcolm Forbes threw the party of all parties — including 600 belly dancers — in Tangier to celebrate his 70th birthday in 1989. On the guest list: Gianni Agnelli, Barbara Walters and Henry Kissinger. His co-host was none other than Elizabeth Taylor. The cost? $2.5 million.
Berenson photo by Henry Clark for Vogue; from A Life in Pictures