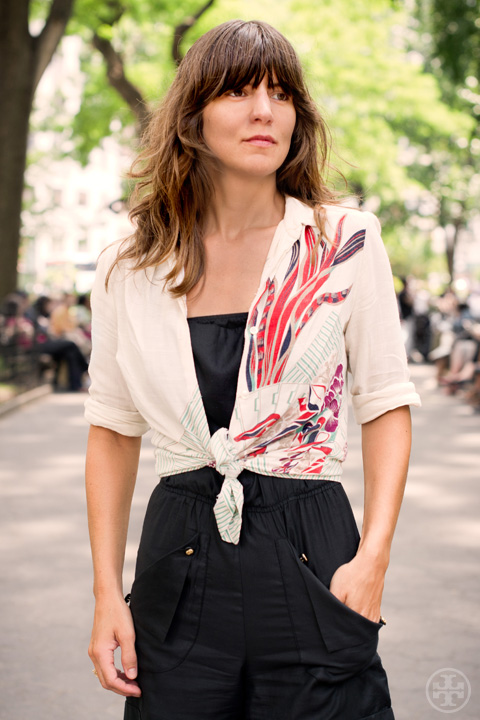 The Brooklyn-based singer loves music, entertaining at home and squash blossoms.
Favorite line from a song…
I've been singing this all day, from a new song called Stare at the Sun: "In the back of the taxi, you turned off the tv and read me a book on your phone." It's romantic and cold at the same time; modern and New York City-centric.
What are you listening to now…
Grace Jones' Warm Leatherette, Chris Cohen's Overgrown Path, Jean "Bosco" Mwenda' Mwenda wa Bayeke.
Who inspires you?
Ronnie Lane, Van Morrison, Duncan Browne, St. Vincent, Deerhoof, Bee Gees, George Harrison, Jake Thackray, Euros Childs, The Incredible String Band, Matthew Friedberger [her brother and fellow Fiery Furnaces mate], Procol Harum, Bob Andy, Yoko Ono, T. Rex, Jorge Ben, Donovan, Wild Flag, The Velvet Underground, Sparks, Buddy Holly…
Describe your sound…
Hopefully a mash up of all the artists I mentioned above; deeply rooted in 1970s rock 'n roll, with a voice that, I've been told, sounds like someone arguing over the phone — not a cell phone of course, but a black rotary phone, like the one that sits beside my bed.
And your style…
All Mixed Up, Eclectic Tomboy? Today I'm wearing a romper my friends from Eskell in Chicago gave me a few years back, with a vintage blouse I bought while on tour in Hamburg and amazing old, Italian shoes from Narnia on Rivington Street.
What did you serve at your recent dinner party?
Mostly vegetables from the Union Square farmers market: fried squash blossoms with yogurt and mint dip, baked okra with a fresh tomato sauce, mustard greens, fried shishito peppers, chorizo, prosciutto, radishes, cheeses.
And decor and atmosphere?
My grandmother's white tablecloth with faded flamingos and palms was on the table with a hydrangea stem from the back yard in a glass. Bosco was on repeat, with a little Led Zeppelin III thrown for good measure.
How did the squash blossoms turn out?
They were delicious?