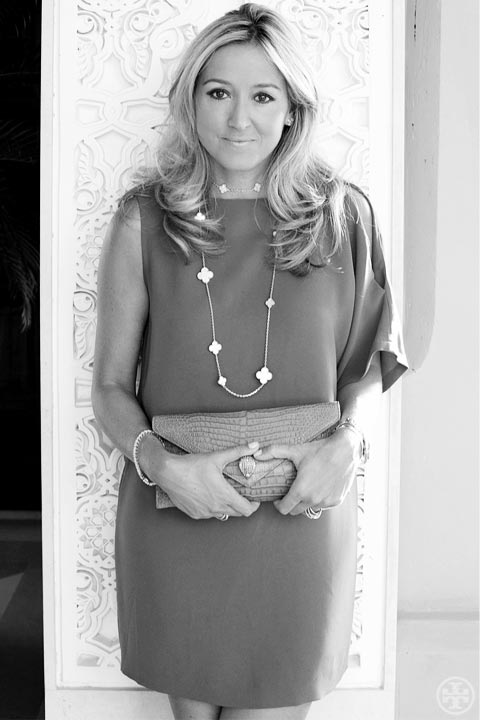 Harrods' Chief Merchant talks British design and overtaking London's Isabella Plantation with two shih tzus in tow.
My story is… After studying history and modern languages in London, I moved to Spain, where I became a teacher. I returned to my inherent love of fashion and beauty and worked for Clinique in Madrid, where I developed a passion for retail. Then I came back to the UK, got married and eventually joined the Harrods family. My two wonderful children always keep my feet firmly on the ground — even after my 30th 16-hour day during fashion weeks!
I love my job because… Every day is very different.
Best piece of fashion advice I ever received… Always dress to suit you, not others. My grandmother used to say, "If you feel good on the outside, you'll perform better and go further."
British fashion… Offers an eclectic mix you simply cannot find anywhere else in the world — slightly quirkier and more unique than the fashion of New York, Milan and Paris. Our homegrown designers are renowned for pushing boundaries!
Favorite British designers… It's very difficult to pick just one! Stella McCartney's designs epitomize elegant wearability; Sarah Burton has captured the spirit of the house of Alexander McQueen, taking it to new levels; Roland Mouret's glamorous designs make you feel like a million dollars, and Erdem Moralioglu is one of fashion's most talented rising stars.
I would describe my style as… Timeless. I like pieces that have staying power and are versatile — I have to look the part for all aspects of my job, 24/7. Heels are a must every day.
My go-to London spots… Definitely Notting Hill. On Saturdays we have brunch at The Electric or E & O. I visit Richmond Park with my children. Our shih tzus Coco Chan and Susie Wong get their best runs in Isabella Plantation. After many long summer picnics and rambles with the dogs it has become our own park!
My favorite charity… The Eve Appeal. In 2009 my friend and colleague George Hammer, whose sister-in-law passed away from ovarian cancer the year before, launched a range of affordable beauty products called All For Eve, to raise money for The Eve Appeal. Also: Great Ormond Street Hospital, which we proudly support through Harrods.
My sign… Gemini