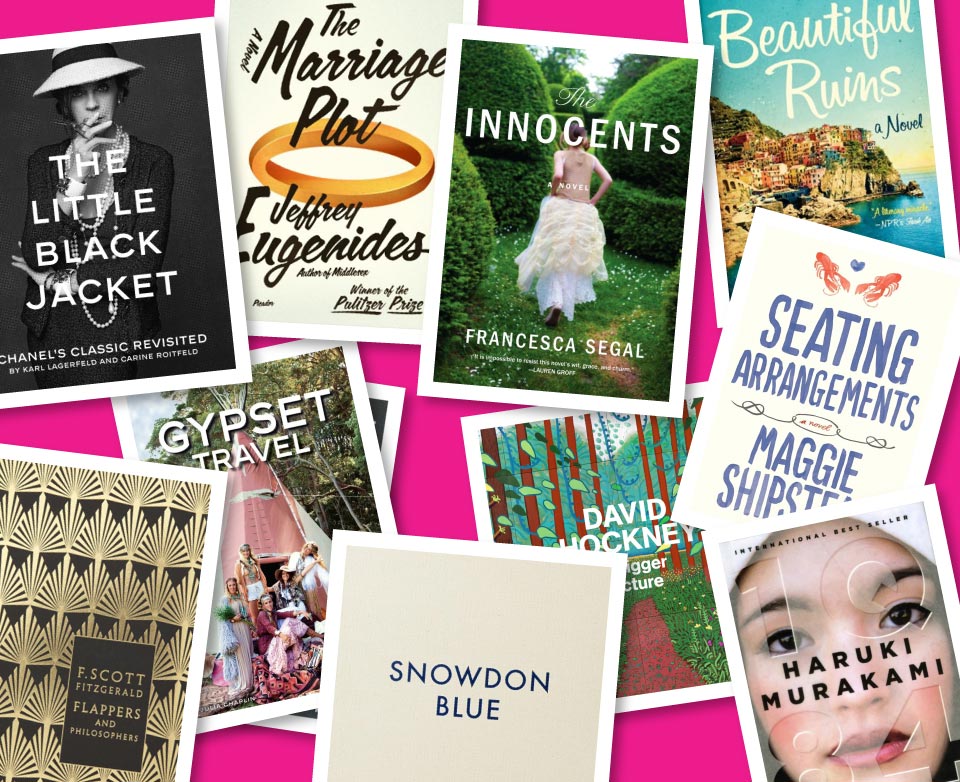 The novels, memoirs and biographies that are on the must-read list:
"This book, by Jess Walter, is packed with rich characters and I love the Ligurian coast for any backdrop!"
— Nathan Turner, Interior Designer
"It's an intense story about the artist's personal pain and triumph during an important
period in the Eighties New York art scene. It's very real and captivating."
— Jessica Rowe, Blogger, The Aestate
"It's a gripping story about family, about struggling with the past, about what belongs to us and what doesn't.
Set in Colorado and New Mexico, it also concerns the precarious existence of the most endangered
mammal in North America. And the writing is superb. It's by BK Loren."
— Laura Moriarty, Author
"It's by George Gurley, who used to be with the Observer."
— Edward Barsamian, Fashion Associate, T: The New York Times Style Magazine
"Moby-Duck: The True Story of 28,800 Bath Toys Lost at Sea and of the Beachcombers, Oceanographers,
Environmentalists, and Fools, Including the Author, Who Went in Search of Them by Donovan Hohn. A beautifully reported
metaphysical quest that combines elements of marine biology, climate, mythology and pop culture, it tracks the mysterious fate
of bath toys that fell into the Pacific. Yes, it sounds crazy. And it is — wonderfully — crazy."
— Alex Kuczynski, Journalist and Author
"By Haruki Murakami. It's a mystery set in Tokyo in 1984."
— Tao Okamoto, Model
"I just got the new Ali Wentworth one, Ali in Wonderland: And Other Tall Tales. It's great."
— Aerin Lauder
"I love India and when you are doing shows, you need an escape."
— Suzy Menkes, Fashion Editor, International Herald Tribune
"By Jeffrey Eugenides."
— Lauren Bush, Co-Founder and Chief Feeder, Feed Projects
"By Ian Frazier. What else would a person read to cool off in August?"
— Deborah Aaronson, Associate Publisher, Abrams
"Frank Sinatra's biography by James Kaplan."
— Geoffrey Zakarian, Chef and Partner, New York's The Lambs Club
and The National and Miami's Tudor House
"It is a sweet and easy read."
— Dree Hemingway, Model
"By Gillian Flynn"
— Gabe Doppelt, West Coast Bureau Chief, The Daily Beast
"By Katherine Dunn. It's pretty much the opposite of light summer reading, but is fascinating and twisted at the same time."
— Emily Schuman, Blogger, Cupcakes and Cashmere
"It's a Dutch book by Dick Swaab that my boyfriend bought for himself, but that I took."
— Bette Franke, Model
"I loved it. And I just saw the movie as well. It was a good translation of the book."
— John DeLucie, Chef and Owner, New York's Crown and The Lion

See all our tastemakers's book suggestions from seasons past and present here.