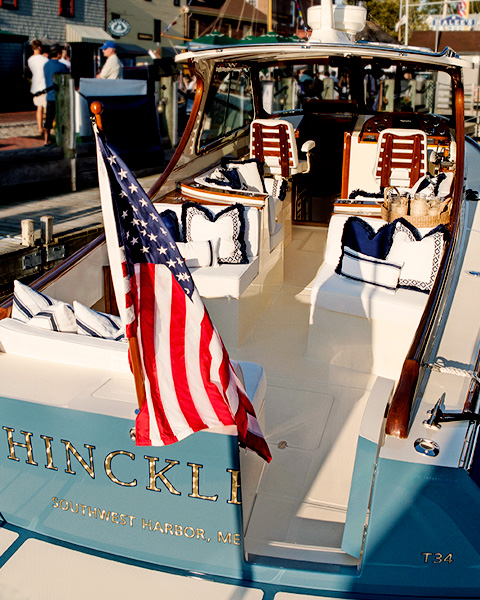 David Howe, owner of the heritage American yacht-builder, talks about fishing missions and his collaboration with Tory.
A Hinckley is defined by…
Eye-catching aesthetics, world-famous Maine craftsmanship and clever usage of technology. When you see a Hinckley, you immediately recognize her. There truly is no substitute.
Some fun Hinckley trivia…
We have a long history — Hinckley was founded in 1928. Many people think of us as a sailboat company because of models like our famous Bermuda 40 and the Sou'westers, but actually before we launched the first Picnic Boat in 1994, the flagship of our current jetboat line, we had built over 500 powerboats — lobster boats and military vessels among them, dating back to the 1920s.
My favorite Hinckley model is…
The one we're building next. We love to innovate, to design, to make the next best thing, albeit consistent with the company's brand tradition. Our founder, Henry Hinckley, was very innovative — the first to adopt fiberglass boat building, the first to adopt roller furling. We don't rest on our laurels.
A perfect day on the water includes…
Early morning fishing if I can wake my son. Tubing or wake-boarding with a boatload of the kids in the afternoon. Cocktails with my wife and a few couples at sunset on a slow harbor cruise.
Favorite spots to sail or cruise…
Many Hinckleys literally sail around the world and then come home to Southwest Harbor, Maine, where every Hinckley is born. There is no more magnificent cruising ground than the coast of Maine. We recently toasted the homecoming of Freesia, a 76′ Hinckley that had been around the world. I think her owners would agree, there's no place like Hinckley's home.
I love Tory's design for the Hinckley T34 because…
It's both simple and elegant, like the boat.