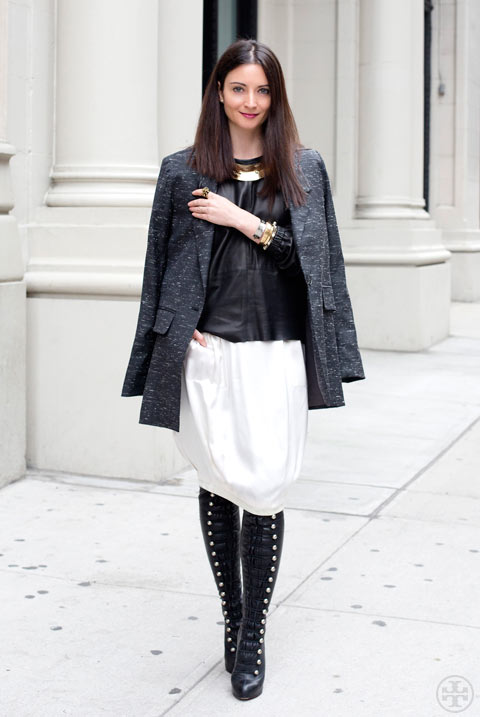 The fine jewelry and fashion consultant speaks to sparkle for the holidays (and beyond).
My backstory…
I'm a native Vermonter — a real country bumpkin at heart. After college I set my sights on New York and fashion and eventually ended up at W magazine for 12 years. That's where I discovered a true love for jewels.
First jewel you coveted…
The pearl headpiece worn by the Childlike Empress from The NeverEnding Story was probably the first piece of jewelry I coveted.
My style is…
I'm a bit of a fashion chameleon and I love contrasts, so I weave in between bohemian and minimal.
And when it comes to jewelry…
I love to mix fine and costume as well as different colored metals and textures.
Here I'm wearing…
Yigal Azrouël's jacket and top, Yves Saint Laurent skirt, Christian Louboutin boots, Tory's Everette necklace, bracelets and rings by Anndra Neen, Philip Crangi, Faraone Mennella and Nora Kogan.
My favorite piece for every day…
My Anita Ko pyramid studs — they go with everything and, as a new mom bonus, have low "grab" appeal.
When going to a holiday cocktail party, I'd wear…
A pair of statement earrings — I'm an earring girl — or a great cocktail ring, depending on what I'm wearing.
Best gift for the jewelry lover who has it all…
A gorgeous book on jewelry like Maharajas' Jewels, Art Deco Jewelry, Cartier or Hemmerle: Jewels Today.
If you were to invest in one piece of jewelry, I'd recommend…
A great gold cuff because it's the ultimate versatile statement piece. You can dress it down or up.
My favorite jewelry icon…
I have three: Diana Vreeland, the Duchess of Windsor and Nancy Cunard. They were all incredibly strong and stylish women who led fascinating lives. They were true originals who had excellent taste and daring visions of how to dress.
And jewelry designers…
Of all time or from today? That's like picking your favorite child! From today: Solange Azagury-Partridge, James de Givenchy, Hemmerle, Anndra Neen, Sevan Biçakçi, JAR. Of All time: Raymond Templier, Fouquet, Rene Boivin, Suzanne Belperron.
Best way to store jewelry…
In a jewelry box or individual pouches — best to keep it all protected.
And to clean it…
Soaking your pieces in a bowl of warm water with a very delicate soap, then lightly brushing away residue with a little brush. Also: emeralds, turquoise and opals require special attention because they are fragile and porous. I recommend having them professionally cleaned by a trusted jeweler. Avoid spraying perfume or hair spray on or near pearls as it can affect the lustre.