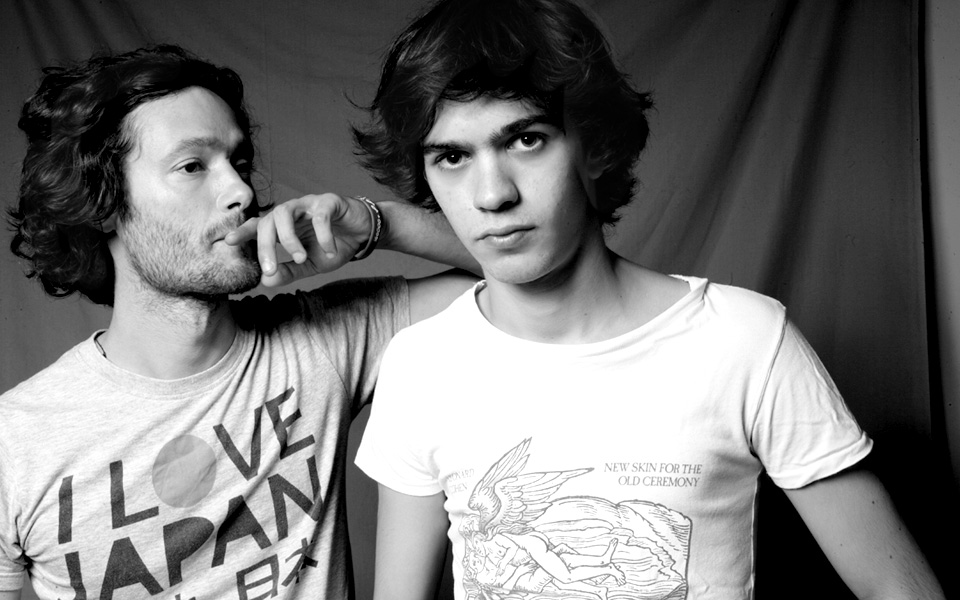 Versailles gave us Daft Punk, Air and Phoenix. Now meet its newest export: Philippe Thuillier and Emile Larroche, whose new band is quickly becoming one to watch.
We first met…
In another band Milestone, like three years ago. It was more pop music with guitars, a little bit like Radiohead, maybe too much — at least that's what everybody was telling us. But this band stopped with the beginning of Saint Michel.
We chose this name because…
First, we wanted our band name to have something particularly French, historical and spiritual. It's also Michelle, ma belle from The Beatles' song and Jules Verne's boat. And it's a beautiful place in Normandy and a famous biscuit brand — St. Michel galettes.
Our music is…
Sexy electro-pop and romantique. It's a binary beat with a groovy bass and warm synths. We love all the stuff from the Eighties, all the synthesizers and beat machines.
And we write about…
Girls and love stories. Sometimes it's sad and sometimes not.
Our fashion style is…
We wear jeans and a chemise most of the time. We have a straight, classic style but love to wear colorful clothes.
Our musical influences include…
Radiohead and The Beatles for the classic pop side. Also: folk musicians like Nick Drake and Simon & Garfunkel; electronic music from Modeselektor, Flying Lotus and Aphex Twin; old reggae music, and Grizzly Bear and Tame Impala.
Right now, we're listening to…
The music scene in New York vs. the music scene in France…
Oh! I think you have much music in NYC. We listen to more of the NYC scene than the French scene. But we have great bands, too — all the ones from Versailles, like Daft Punk or Phoenix. We don't listen to a lot of classic French music, but we love people like Léo Ferré.
A good introduction to our music is the song…
Katherine, which tells the story of a girl, once again. It's the first single we did and the most powerful — but many more cool ones are coming. :)
And the story behind that music video…
We went to New York for only two days and shot on a roof under the rain all night long. Louis De Caunes directed the video. We really like what he does and became friends with him. The light effects were made by his crew and they did a wonderful job!
Next up…
We're going to work on an album. It's the next big thing for us. Then we'll go back on tour and maybe we'll go back to New York.