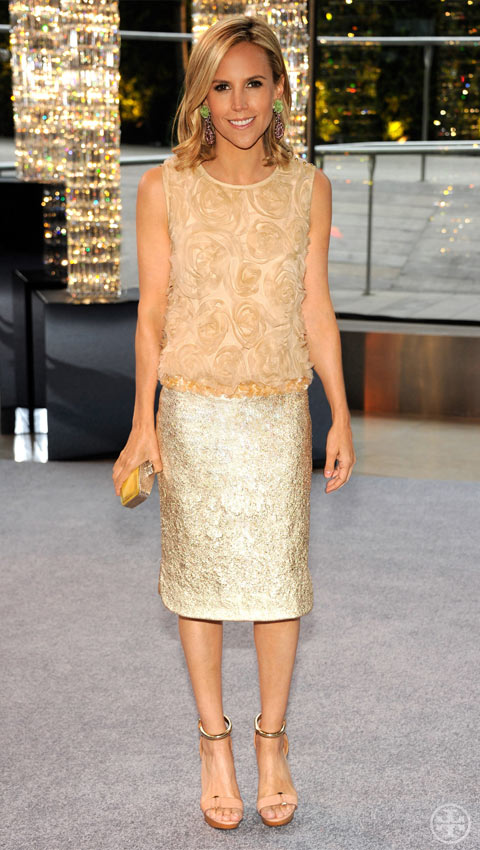 How do you do holiday shine without going over the top?
Understated glamour is not an oxymoron. I love a muted metallic like a rose gold or a distressed gold. It brings in subtle shine.
What are you wearing here?
Pairing something metallic with a similar matte shade tones down the klieg-like effect. I'm wearing our Rea Dress. The soft pink organza rosettes balance the crinkled gold leather skirt. I kept my accessories minimal and in the same neutral palette. Anything too contrasting would steal the attention from the dress.
It's so pale. Is it appropriate for the holidays?
Absolutely. Anything with a little shine is great for parties. It's a different way of thinking about evening during the holiday season.
What do you love about metallics?
Metallics are a classic look and they go with everything. Even though something may be gold, it's a neutral that will work with black, navy, pink, red…even other metals.
Can a paired-down girl do the metallic look?
Anyone can wear metallic. If you're more of a minimalist, the season's knits, like our Angelina Turtleneck, is a basic sweater but is shot through with metallic threads that give it shine in certain lights. Also consider a copper pencil skirt— the darker tone and spare lines keep things clean while still tapping into the metallic trend.
And what about accessories?
Accessories — a sequined shoe or jeweled earring — is the easiest way of adding the metallic factor. But even here you can keep things streamlined. A graphic gold collar necklace set against a black dress is simple yet sophisticated.