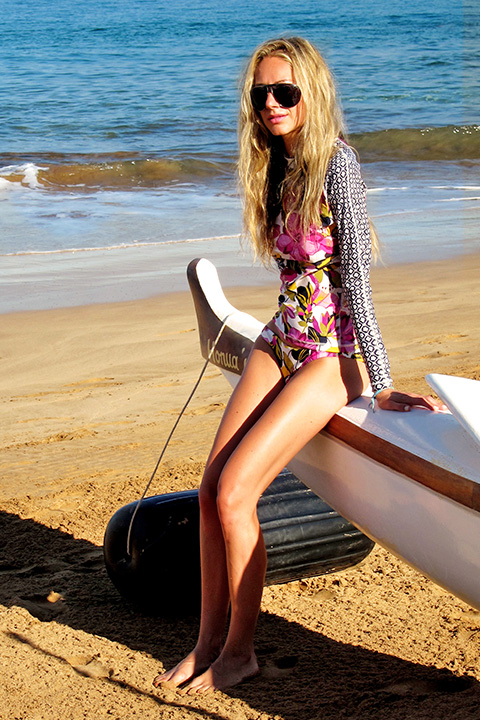 Where are you?
In Maui, the day after my brother's wedding. I have a lot of family in Honolulu. My mom used to live in Kona. My parents met at Waikiki Beach in the Seventies — it was a big part of their youth and ours.
Do you surf?
I wish I could say I do, but I don't. I'm pretty comfortable in the water, though. I windsurf and paddle board; I swim, snorkel and sail, and I have my boating license.
What do you wear when you're in the water?
Sunglasses, ChapStick and sunblock. If I'm windsurfing, I'll wear a sport top, like this surf shirt from Tory, and a bikini bottom.
Tell us about Maui New York…
It's only a few months old. I started it with my partner Phil Vasilevski, and it's a digital agency dedicated to fashion, lifestyle, luxury and brand web sites. Everything in the realm of digital design. He's the Technology Director and I'm the Creative Director. We're looking for ways to innovate. You always have to be rethinking the way that e-commerce and social media work together.
How did you come up with the name Maui New York?
It's a positive association with Maui; Phil and I share a love of Hawaii. He does bike races to the top of Haleakala volcano. We loved the contrast of Maui and New York. With the logo, I had to reference the T&C surf colors from my childhood.
Your ideal day in Maui is…
Simple. Morning run along the beach, afternoon of swimming and wind surfing, a good book and dinner outside at Ferraro's.
Best spot to wind surf…
Paia Bay.
Secret only a local would know…
Mama's Fish House.