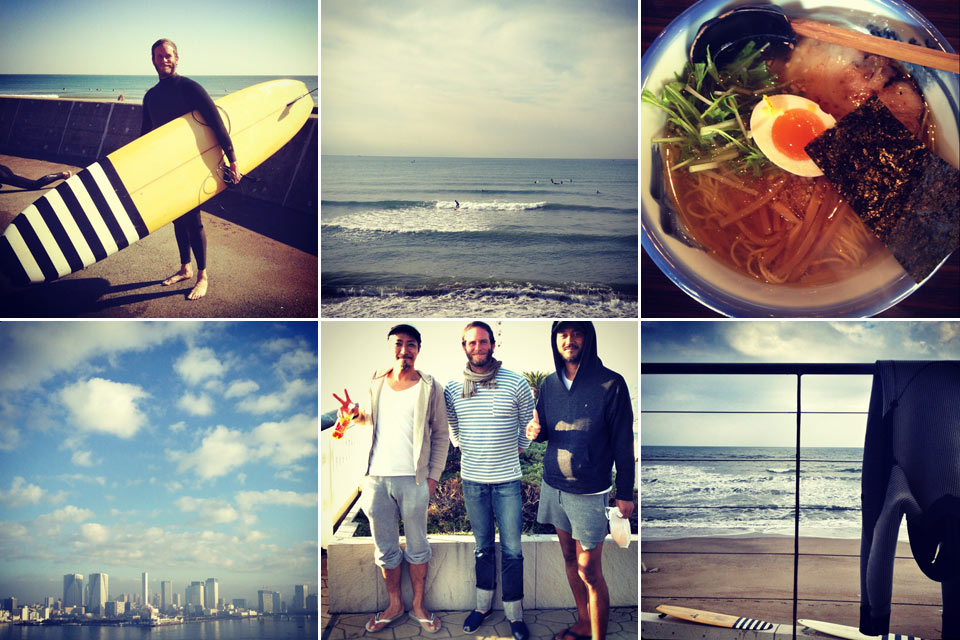 Tartine Bakery's Chad Robertson sent us a note about a recent surfing excursion to Japan (favorite post-wave spread, included).
"Recently, on a research trip to Japan, I had the good fortune to surf at a few different spots outside of Tokyo. In San Francisco, the best surf season is fall-winter. It's cold and a good bowl of soup is always a welcome post-surf meal — the same held true in Japan. After a few hours spent in the water, there is nothing more satisfying than warming up with a broth made from the essence of the sea: seaweed and powerfully delicious dried fish. Nick Balla, my friend and chef of Bar Tartine who has lived and worked in Japan, advised me on making the below recipe at home.
"Dashi is Japanese broth, and katsuo dashi is a prized broth flavored with shaved bonito — a dried, smoked and cured fish. While basic katsuo dashi is simple and delicious, I often add more ingredients — vegetables, fish or meat — for flavor and heartiness. Kabocha squash is a favorite and goes well with both fish and meat if I want to add more protein.
"I'd eat this soup with a side of assorted Japanese pickled vegetables called tsuke-mono, wholegrain sesame toast and this buckwheat bread we're making at the bakery now. If it's early in the day, I'm drinking green tea with this; later in the day probably sake or a light beer — Aecht Schlenkerla Helles Lager from Bamberg or Timothy Taylor Landlord's English pale ale." — Chad
Kabocha Dashi
3 sheets dashi kombu (dried seaweed)
1/2 gallon of water
4 dried shiitake mushrooms
3 c katsuo bushi (shaved dried bonito)
2 oz white soy sauce
Pinch of salt or miso
Thinly sliced scallion and freshly grated ginger for garnish
Soak dashi-kombu sheets in 1/2 gallon of water for two hours. Add dried shiitake mushrooms and gently simmer — do not boil — for about one hour. When kombu is tender and broth flavorful, strain the hot mushroom-kombu liquid. Add katsuo bushi to still hot liquid and allow to sit on very low heat for about five minutes. Again, strain broth, season with white soy sauce and salt or miso of choice for either a clear or miso broth.
Steam veggies or meat of choice separately. Kabocha squash, Japanese sweet potato mushrooms, gai lan, spinach, small onions, clams, black cod or chicken are all possibilities. Pour broth over carefully steamed meats and veggies. Local manilla clams simmered in miso broth until open and served with scallions are a favorite.
Garnish with thinly sliced scallion, a bit of fresh grated ginger and julienned kombu from the stock.