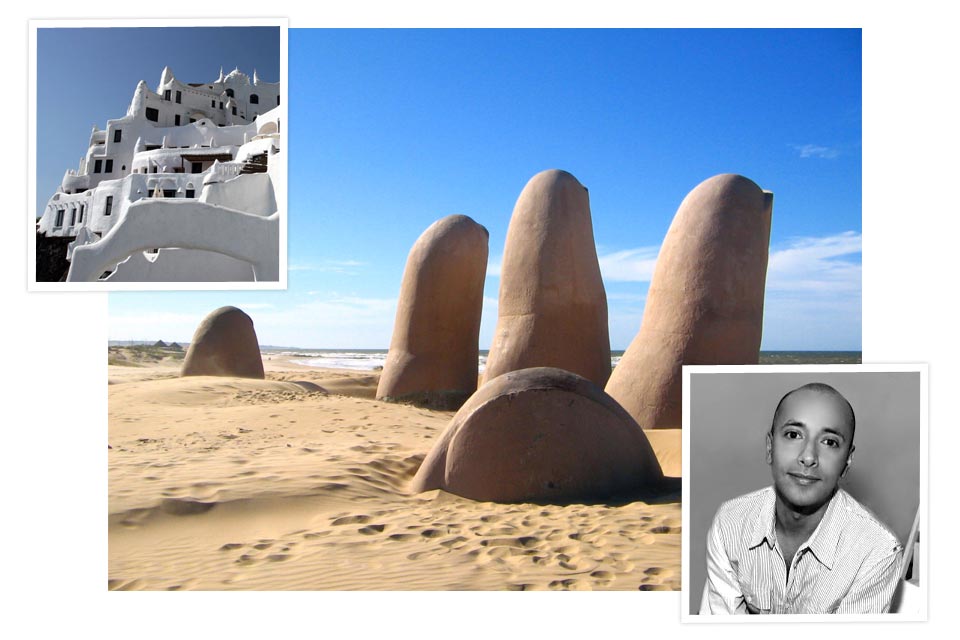 Everybody loves Punta del Este because…
Despite being a jet-set darling since the Fifties, Punta remains relatively unaffected and affordable — equal parts unspoiled landscape and fancy-pants lifestyle. The never-ending conga line of beautiful party people doesn't hurt, either.
Best time of year to plan a trip…
The season officially starts off in January, but Punta is pretty much party central from early December and good for sightings of Metallica's James Hetfield, who calls Punta home in December. If you have never attended Carnival in South America, then early February is hard to beat.
Best beach…
Punta is a peninsula flanked by the Atlantic Ocean on one side and the Río de la Plata on the other. On the Brava side (Atlantic Ocean), it's hard to overlook Montoya, right near the action of La Barra and Manantiales. On the Mansa side (River Plate), anywhere in the Portezuelo Bay.
And if you're game…
Chihuahua is the only nude beach in Punta. In addition to tanned naughty bits, Chihuahua boasts tourist-friendly sand dunes and postcard-ready clean water, as well as an adjacent lake. For those who need another excuse, these days it also has massages and a parador (beachside diner) for healthy meals and refreshments.
Not-to-be-missed dinner spot…
The jury is divided on the town's best haute cuisine restaurant but Virazon on the rambla, the long strip in front of the port, unquestionably offers the best view of Gorriti Island and equally mouth-watering cuisine, especially the fish. Don't forget the paradors, though!
Favorite place to dance the night away…
El Jagüel, a makeshift venue near the airport, attracts big-name performers like Euro-dance king David Guetta, who held court once. La Plage is a safe best year after year.
Best market to scour for local treasures…
Though the Mercado de los Artesanos in Gorlero Avenue gets most of the press love, go for the market on Punta Ballena, which skews a little less tourist-y.
Under-the-radar neighborhoods…
Pine-lined Rincón del Indio doesn't have the glamour or hype of Beverly Hills or José Ignacio, but it's nestled between ever-popular La Barra and the heart of Punta — basically 15 minutes from anywhere you'd want to go.
Best spot for a sunset cocktail…
For watering holes, it's Las Cumbres, better known as a travel-mag favorite for food and accommodation, arguably has the best view in town. Meanwhile, La Huella, a super-trendy parador in José Ignacio, continues to draw a crowd of young bikini-clad beauties and the older men who love them.
And the cocktail to drink if you want to be mistaken for a local…
Basically anything wet and alcoholic goes, but the locals seem to have a proclivity for whiskey.
Secret only a local would know…
Mmm. Las Grutas, which is built into the rocks of the west shore of La Ballena, offers scaled-down Acapulco-like diving. (The eastern side of La Ballena, close to the storied Casapueblo artistic enclave, also has good cliffs for the adrenaline junkie.) Though the raucous outdoor disco it housed is no more, Las Grutas has an amphitheater built into the rocks, which still makes for a fun adventure. No glow stick required.