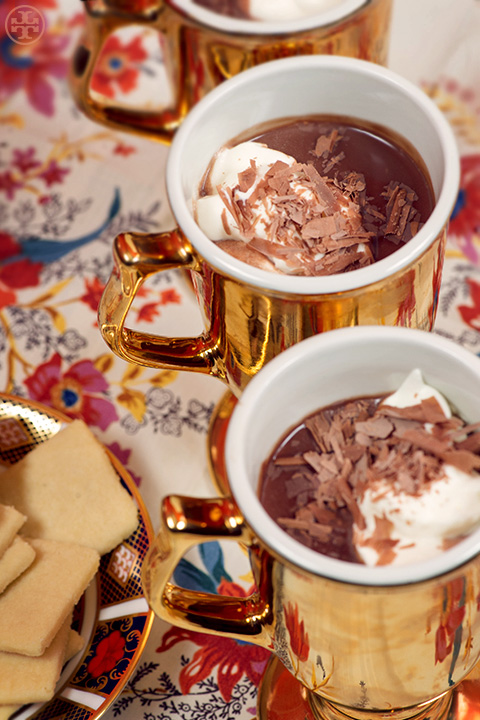 Santa's Shortbread Cookies
Makes two dozen
8 oz unsalted European-style butter at room temperature
1/2 c sugar
1 tsp vanilla extract
2 c unbleached all-purpose flour
Pinch of salt
Preheat oven to 275°. Combine butter and sugar in bowl of an electric mixer. Using paddle attachment, mix on low speed until mixture is light and fluffy. Add vanilla and mix again. Add flour and salt and mix until dough comes together. Place dough on a floured sheet of parchment paper, sprinkle flour over dough and roll till 1/4-inch thick. Prick dough all over using toothpick or fork. Cut dough into desired shapes using cookie cutter. Place on parchment-lined baking sheet so cookies are not touching one another and refrigerate for one hour. Bake shortbread for 30 to 40 minutes until firm but remain white in color.
Spiced Hot Chocolate
Serves four
1 c heavy cream
2 c whole milk
1/4 c sugar
1 tsp cinnamon
1/8 tsp ground cardamom
1/2 tsp orange zest
1/2 tsp vanilla extract
1 Earl Grey tea bag
3 1/2 oz good quality bittersweet chocolate, finely chopped
Whipped cream for garnishing
Bring cream, milk, sugar, cinnamon, cardamom and orange zest to a simmer in a heavy bottomed saucepan. Whisk occasionally to dissolve sugar. Once sugar is dissolved and mixture has almost come to a boil, remove from heat. Add Earl Grey tea bag and allow to steep for five minutes. Remove tea bag, return mixture to a simmer. Remove from heat again and whisk in chocolate until completely melted. Strain mixture through a fine-mesh sieve. Serve in warm mugs with a dollop of whipped cream.
Recipes courtesy of Chef Dana Minuta