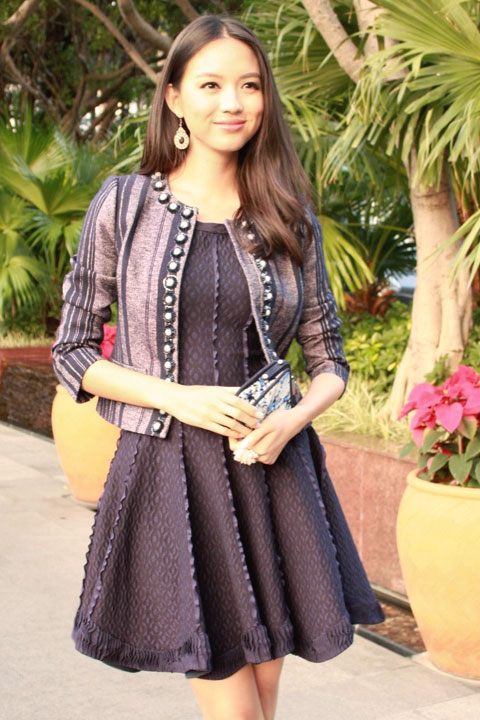 We spoke with Miss World 2007 — the first from China to hold the title — about Far East fashion,
folk music, Butterfly Lovers and giraffes.
Chinese style is…
Elegant and subtle. Could be provocative in an exotic way.
My fashion motto…
Wear what suits you.
Best fashion advice I've ever received…
"A decent dressing is to pay respect to yourself and others." My mom told me that.
In this photo, I'm wearing…
Tory Burch's tweed Eliza jacket, Azzedine Alaïa's dress and a Giorgio Armani clutch.
I love this look because…
It's my style — relaxed and cozy.
Best beach getaway…
Bora Bora.
And best getaway ever…
South Africa, because I love nature and animals. Going on a week-long jungle safari was the most unforgettable experience.
My favorite travel souvenir…
A carved wooden giraffe from that trip to South Africa. Giraffes are my favorite animals.
Dish I miss most when away from home…
Spicy hot pot.
My favorite singer/musician…
Sarah Brightman.
If you're new to Chinese folk music, start with…
The Butterfly Lovers' Violin Concerto.
At karaoke, I like to sing…
All sorts of Chinese songs.