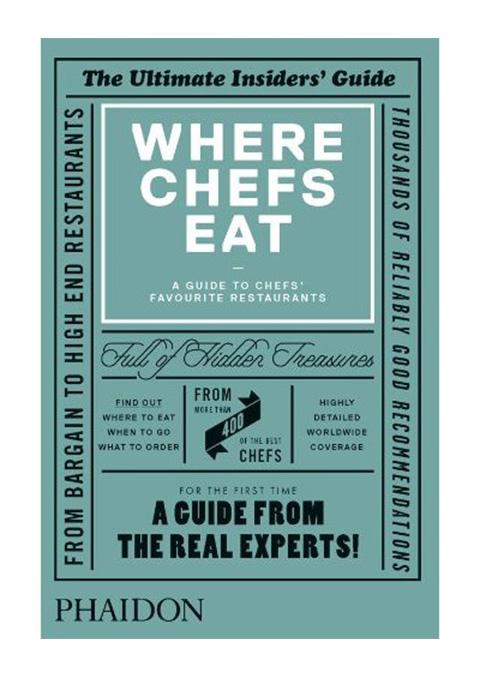 Phaidon's new book gives us the inside scoop on the best places to eat — with recommendations straight from the chefs. Here, a look at some of their selections, from breakfast to late-night bites.
For the Best Desayuno
If you're ever in Barcelona, head to
Bar Pinotxo
, a 14-seater in the heart of the city's busy
Boqueria
market. It's the favorite breakfast spot for a host of chefs, from El Bulli's Ferran Adrià to Willy Trullas Moreno of Shanghai's
El Willy
.
Krazy about K-town
Where does the Michelin-starred April Bloomfield of The Spotted Pig go when she needs a late-night foodie fix? The 24-hour Kunjip in New York's Koreatown. "In the winter, they give you free tea and black pudding (blood sausage) if there is a long wait for a table," she shares.
Far East Fancies
David Chang's opened up a constellation of Momofuku restaurants, both in New York City and abroad, yet there's one restaurant he wished he could have opened: Kajitsu in the East Village, which serves vegetarian Shojin temple food. On the flip side, Wylie Dufresne said Chang's Momofuku Ssäm Bar was the restaurant he most wished he opened while Marcus Samuelsson named Momofuku Noodle Bar.
Hey, Big Spender
If money is no object, then head to The River Café in London. Eighteen chefs named the pricey eatery as a special-occasion favorite for breaking the bank. "The food is delicious and the setting on the banks of the Thames is incredible," notes The Fat Duck's Heston Blumenthal.
Have Palate, Will Travel
Hugh Acheson couldn't name just one restaurant as the place worth traveling around the world for, so he gave three: La Lobera de Martín in Zaragoza, Spain, and the Stateside Holeman & Finch Public House in Atlanta and Husk in Charleston.
Ripert's Budget Boîte
At Eric Ripert's famed Le Bernardin restaurant, the chef's tasting menu will knock you back a cool $332 (including wine pairings). But when Ripert needs a bargain bite, he heads to none other than La Bonne Soupe in Midtown Manhattan, where the priciest four-course tasting menu clocks in at $57.99.