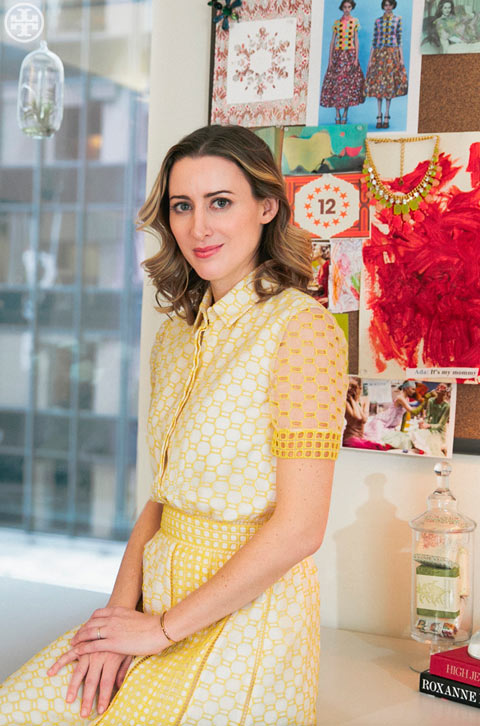 Lucky magazine's Executive Fashion Director gives us her Fashion Week lowdown — from her wardrobe to between-show drinks.
My day job is…
I'm kind of like the Tony Robbins of fashion. But not as tall.
I love my job because…
Our goal at Lucky is to get women excited about getting dressed and going shopping. Giving them the tools they need to define their personal style and look their best — regardless of size, fit issues and budget — is very gratifying.
My style is…
To the office, I aspire to look like Grace Kelly. On the weekends, I want to look like that guy I had a crush on in high school. I am always trying to balance my yin and yang — by the end of the week I am so sick of the classic lady thing that I am desperate for boyfriend jeans and a concert tee.
In this picture I'm wearing…
Tory's beautiful Isidor Dress (available in April).
I love it because…
It satisfies my Grace Kelly yearnings in a major way. The bright yellow color and interesting texture make it fun and original.
During Fashion Week…
It is all about a great coat that is anything but black. Sometimes you don't take off your coat the entire day, so your coat becomes your look for the day and the only thing anyone sees.
Best thing I ever heard in the front row…
Paul McCartney singing along to his own songs at his daughter Stella's show.
Best piece of fashion advice I have ever received…
My friend Miguel Enamorado, a stylist, once approached me and said, "I can tell you just want to wear blush tones every day, you should just go for it and make that your thing." It was so true. I always felt the tendency to force myself to change things up when I just wanted to reach for that same nude-colored dress. The lesson for me is that if you figure out something that works for you, don't be afraid to rock it over and over again.
Power breakfast…
Eggs and toast with my two little girls at home. Nothing is more uplifting than their early morning snuggles before I head out.
And after-show drinks…
Honestly, the Lucky team is a little bit more into between-show drinks. You lose track of time and we are often asking if it is late enough in the day for a glass of wine. It actually is an opportunity to catch up with other industry friends who also only have a half hour of time to kill. I love to have a drink at Lincoln or Fig & Olive.