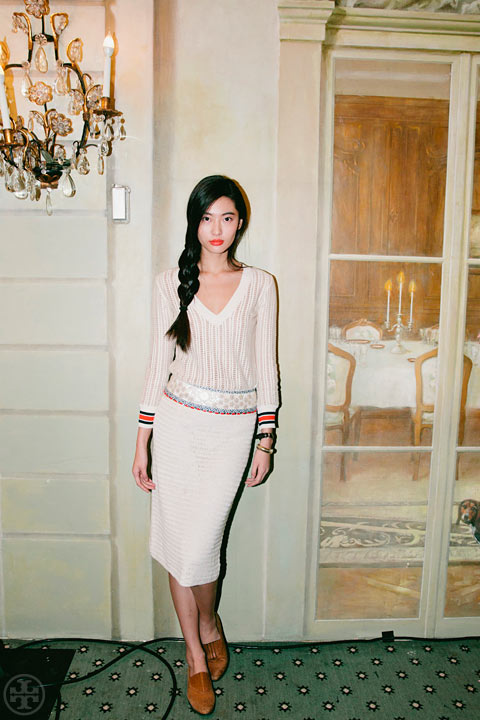 Chinese model Bonnie Chen on travel, working with George Clooney and New York eats.
What's your backstory?
I was born and raised in Suzhou, China, and did gymnastics as a kid. I was the national champion in rhythmic gymnastics — that's the one with the ball, the ribbon, the hoop…. I entered the modeling world after my mom signed me up for the Elite Model Look international competition. I left to go to college — first Menlo College and then Penn, where I studied consumer psychology.
And now?
I'm covering the fashion shows for Top Fashion, a television program for a travel channel in China. I also still a model and write for Chinese Harper's Bazaar, Elle and Vogue.
What's it like to be on the other side of the camera?
It's more relaxing. As a model, you have to get up really early, someone decides what you wear and how you walk…. I'm more myself now.
What's your style?
It's very Tory. We went to the same school [Penn] and her style really suits me. I call it intellectual girl with a very down-to-earth attitude.
Were you into fashion as a kid?
No. Growing up, I was very isolated from my family because I was training for gymnastics. I lived in a dorm and every day wore, like, leotards and uniforms. There was nothing related to fashion. But my mom is very into it. She loves shopping.
Most memorable modeling anecdote?
An outerwear campaign in Tibet almost 10 years ago, when no one was going there to do shoots. Another favorite was a 2011 shoot for Harper's Bazaar China at Lugu Lake, which probably has the last female-dominated society in China. It's a rural area in the south and is just fascinating.
You worked with George Clooney on a Mercedes Benz commercial — what was he like?
He is the funniest person. He reminds me of Mr. Bean but with a better look. He would take pictures of everyone with this Fatify app to "fatify" your face.
What are your go-to places in New York?
Yoga to the People (because I love hot yoga), the High Line and Chelsea Market. My restaurants — Shabu-Tatsu, Soba-ya and Cha-An in the East Village.
What should a first-time visitor to China see?
If you're younger, definitely go to Beijing — it's more exciting. If you're more established, go to Shanghai — you can spend a ton of money there. I would also recommend my hometown Suzhou. It's a very ancient city with all these historical sites. It's very sweet with a beautiful countryside, but it has a metropolitan side, too.
And pack?
A mask — because the air pollution is very strong — and your own facial skincare since it's kind of difficult to adjust to the situation there.
Advice for combatting the 12-hour jet lag?
I take sleeping pills all the time. I sleep on the plane and, as soon as I get off, if I don't have to work, I go back to sleep right away. That's the only way — sleep, and drink enough water.
Your charity?
My own — Star Bunny Love. We organize sales in China, using donated secondhand clothes and accessories from people in the fashion industry, and all the proceeds go to help autistic kids. I want to show people how artistic these kids are. The name — people call me bunny because I look like one.