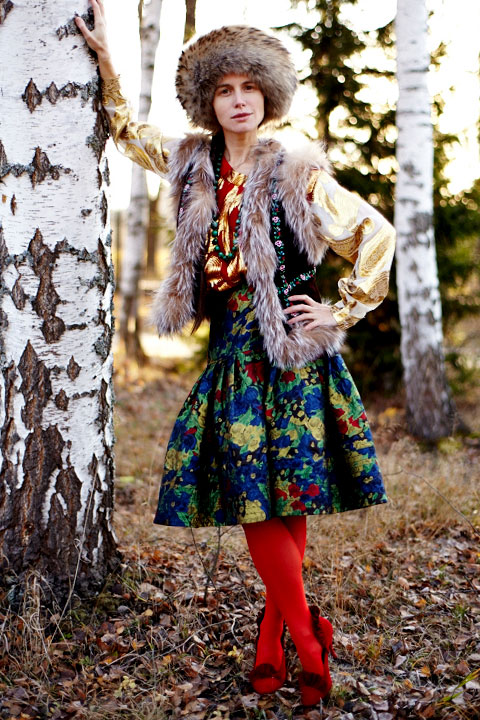 The Muscovite co-founder behind textile company Tissus Tartares talks Russia, décor and entrepreneurial benefits.
The story of Tissus Tartares…
It all started in my old Greenwich Village apartment, when my-then neighbor and now-business partner Nathalie Farman-Farma and I spent long evenings discussing our mutual love of interior design over tea. It turned out we were both passionate about Russian art and literature, Madeleine Castaing, Central Asian ikat robes and vintage Le Manach fabrics. Out of this mix of references Tissus Tartares was born.
Our fabrics are different because…
I realized that the few fabrics on the market that I liked had been seen too many times before. What I really wanted was a transporting Eurasian sensibility that would imbue our house with historical patterns and colors without being sentimental or overly traditional.
How Russia inspires me…
Colors seem more vivid in the northern light of Russia where long winters can be bleak. Some of my favorite palettes are found at Kuskovo, a pre-revolutionary summer estate in Moscow. I especially love the crimson drawing room with apple-green and gilded baseboards. Another palace dear to me is Pavlovsk, built by Czar Paul I just outside Saint Petersburg. The famous Lilac Salon is best viewed in June when the sensual coloring of its faux-marbled walls rhymes with the real lilacs in the garden outside. The perfume of those flowers is out of this world.
And the collection…
Our newest printed fabric Fontanka, named after an elegant St. Petersburg street, is a lavish large-scale floral. It is based on a grand 19th-century shawl created in a serf workshop by some of the most skilled weavers who ever lived. At that time, it would take more than two years to create such a cloth, and the cost of buying one equaled the price of a handsome estate.
The importance of red…
In the Russian language, "red" is an archaic word for "beautiful." The Red Square, initially built out of white stone, was named for its beauty, not the masonry. In Russian art, red is an important and versatile leitmotif that plays a key role in everything from Byzantine icons to Malyavin's exuberant paintings of dancing Russian peasants and, of course, Malevich's minimalist Red Square. In our collection there is an authentic Turkey red, or rouge d'Andrinople, cotton that has a particularly deep and vibrant hue that can give a space a prominent accent or imbue it with warmth and drama.
My décor tips…
Whether choosing the luxurious option of upholstering bedroom walls for the ultimate French chateau effect or simply putting the right mix of pillows in an otherwise minimalist setting, one can make any room come to life with textiles.
My apartment…
Has wonderful old architectural bones — an enfilade floor plan, wood paneling and ornate plaster ceilings. It is a relaxed, elegant environment where antiques and contemporary art easily mix. And there is a lot of fabric, both antique and Tissus Tartares, throughout!
My love of textiles influences my style by…
I often quote elements of national costumes for an ethnic-inspired look, and I love the challenge of mixing different patterns and textures to a harmonious effect. Marni cottons with a bohemian feel, of which I have a large collection, have always been my staple. I love Celia Birtwell's exquisite vintage crepe-de-chine prints and Dries Van Noten's eye for juxtaposing ikats and florals.
The best part of starting your own business is…
The complete control over your creative vision and, of course, over your work hours. I have five young children and cooking the family dinner is a daily ritual that is not to be missed!