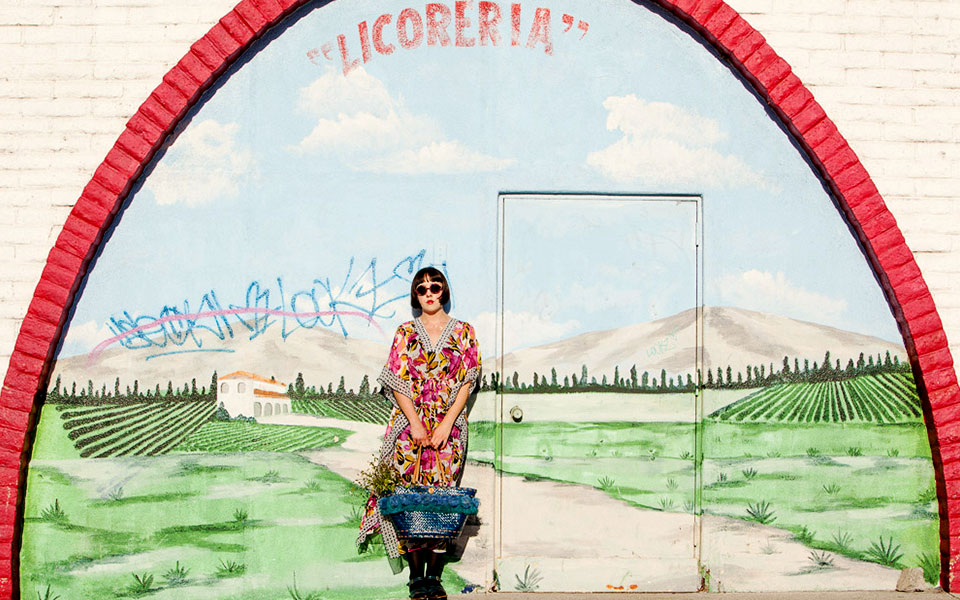 If there's one thing this artist knows, it's color; it defines both her oeuvre and wardrobe. Here, she talks about her kaleidoscopic art, style and a certain something called Rainbow Hour chez Penner.
I knew I wanted to be an artist…
For as long as I can remember. When I was in elementary school, I really wanted to be a cartoonist. Growing up I watched a lot of Disney and Silly Symphonies cartoons.
My fashion style…
I love patterns and bright, bold colors. My closet is filled with dresses; I don't think I own a pair of pants. Everything I wear is vintage. I love the hunt and the idea that there could be only one. Lately I have been looking for things that have a story or humor in them — like a print with green bunnies riding bicycles or dancing alligators screaming "HELP."
My trick to wearing color…
I wear a lot of florals, bright flowers on a black background mostly. It's nice to pick out one of the colors in the print and match your stockings to it. Having an array of colors is necessary. I like neon pink, orange, poppy red and bright blue.
And when it comes to makeup…
All you need is a really saturated eyeshadow. I like to rotate between acid yellow, hot pink and baby blue over the entire lid.
Favorite work of mine…
My windows and doors. They are big grid-like rainbow panels that resemble windows. When I started making them it was the first time I had painted anything that big. The process is really meditative. I don't use any tape or plan anything out. I start with one color and move inwards. I like letting each color dictate the next.
If I could own one piece of art by another artist…
I would love to own any work by Niki de Saint Phalle — she's my favorite artist in the whole world. If I could, I would live in her Tarot Garden in Tuscany. She built these amazing mosaic structures where entire rooms are made up of blue mirrors — it sounds like heaven.
My earliest art memory…
Sitting at my desk drawing a tree in my kindergarten class. I can remember how I was drawing the grass. The principal came in to get me at that moment and told me I had been skipped ahead to first grade. I like to think it was because of my crayon skills.
I'm currently obsessed with…
Stars. I have been covering everything in them — people, buildings, statues, pumpkins, you name it. I work with the rainbow a lot too, but not the traditional rainbow; I think a discordant color scheme is beautiful. Putting fire-engine red then lime green then electric blue seems more natural to me.
Rainbow Hour at my house is…
I live on top of a mountain overlooking downtown L.A. There are a lot of windows and skylights in my house. I placed crystals on strings in front of all the windows facing the view so, at a certain time of day, rainbows will shoot all though the house. There are also a lot of giant mirrors that reflect the rainbow light and bounce it all over the place. Sometimes if the fan is on and the light comes in at the right point and hits a crystal ball, it creates a natural strobe light.
Next up…
I'm working on editing my first short film shot on 16mm; surprisingly enough, it's entirely black and white. Then a project with my agency Commune and the new Ace Hotel. I'm also creating a giant backdrop for my friend Father John Misty to take on tour — it's going to crazy and beautiful.