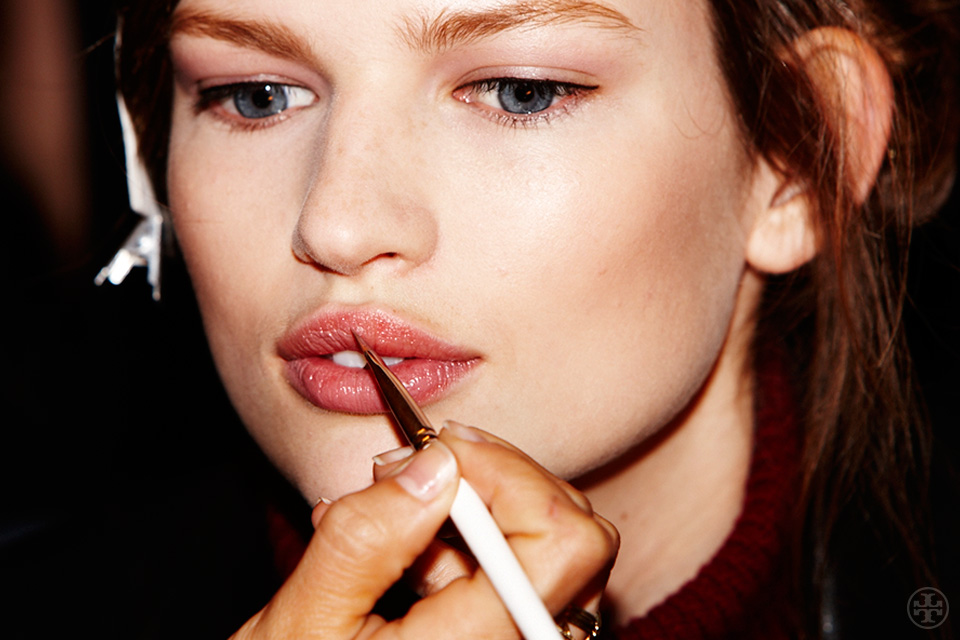 THE MAKEUP
By Diane Kendal for MAC
The Inspiration
Confident women.
The Look
We're using light foundation — just giving a really luminous finish to the skin. We're using eye shadow as blush; mauve or nude for the lips. And we're lining the eyes with a really thin black liner for definition, then filling the eyebrows and using a grease eye pot for the contour.
The Big Fall Trend
Natural makeup. It's about really emphasizing each girls' features, by contouring cheeks and defining eyebrows, and making them look really fresh and beautiful.
THE NAILS
By Marian Newman for MAC
The Look
Effortless chic. We're using a very pale, sheer pink.
The Shape
I call it the Cu-Tip — because it's a slightly longer shape that mirrors the cuticle. Don't over-think it.
Insider Tip
Apply two coats of polish because you get a buildup of color and it prevents it from being streaky. Then, put on a really thick layer of top coat — it dries faster when it's thicker and you'll get a much better finish.
The Big Fall Trend
Not trying too hard. Stop the madness. Keep it simple, beautiful and accessible.
To Match Or…
Nails and lips can match if they're both nude. I don't think they should match if you're using a bold color. If you have a really dark, strong lip, your nails should be a natural or a pale pink.