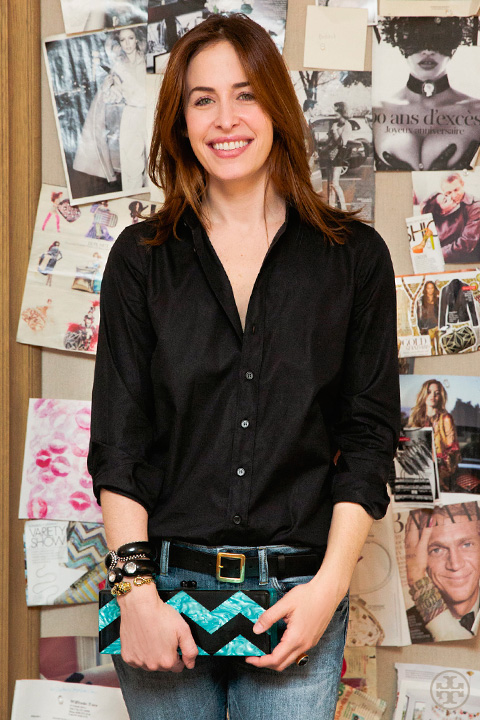 In a former life, Brett Heyman was Gucci's director of public relations (who also held stints at Elle, Giorgio Armani and Dolce & Gabbana). Now? She's the designer behind Edie Parker's cool Fifties- and Sixties-inspired clutches.
What inspired the line?
It was an accident really. I had no intention of starting my own line — I just wanted to remake the vintage acrylic clutches I could no longer find because I loved wearing them. Every time I wore a clutch someone stopped me to ask about it. There aren't a lot of brands that focus on evening bags, so I got to work and here we are!
And the name? There are a lot of chic Edies in fashion…
Edie Parker is my daughter's name. But, yes, there have been many chic Edies! I have a picture of Edie Sedgwick hanging in my office, and I have watched Grey Gardens more times than I care to admit.
What do you love about the Fifties and Sixties?
I'm absolutely drawn to that period of postwar America. Fashion, architecture and design began to experiment with new materials during this time. American fashion was setting trends globally, and part of this innovation was the use of plastic, acrylic and metal.
Who are your style icons from that era?
There are too many to name. Pretty much if you were French and in fashion in the Sixties, I love your style! Loulou de la Falaise, Charlotte Rampling, Betty Catroux. I'm also always referencing photos of Babe Paley, Gloria Guinness, Marella Agnelli, Diana Vreeland, Slim Keith, etc. These are women who clearly loved getting dressed and were passionate about their accessories.
What's the best fashion advice you've gotten?
Wear a garment, don't let it wear you.
And business advice?
Oh, gosh — I could use some! Is Tory free to talk? Charles Schwab once said — and obviously not to me — that "a person can succeed at almost anything for which they have unlimited enthusiasm." I think that's a great thought.
The most exciting part about owning your own business?
Freedom, creativity, creating a culture.
What keeps you up at night?
Freedom, creativity, the pressure to create the right culture.
Lessons learned from your previous jobs?
I have had amazing experiences. Being in the proximity of Tom Ford, Domenico Dolce and Stefano Gabbana, and Frida Giannini was exciting. They radiate energy, passion and talent. Following your passion is a great lesson.
What's next?
Hopefully a lot! I am working on some bags that combine acrylic with skins, leather and other materials. I am working on new shapes and new sheets that are digitally printed. We are launching fantastic acrylic hinged bangles and I hope to continue making jewelry. The list of what I want to make is limitless!