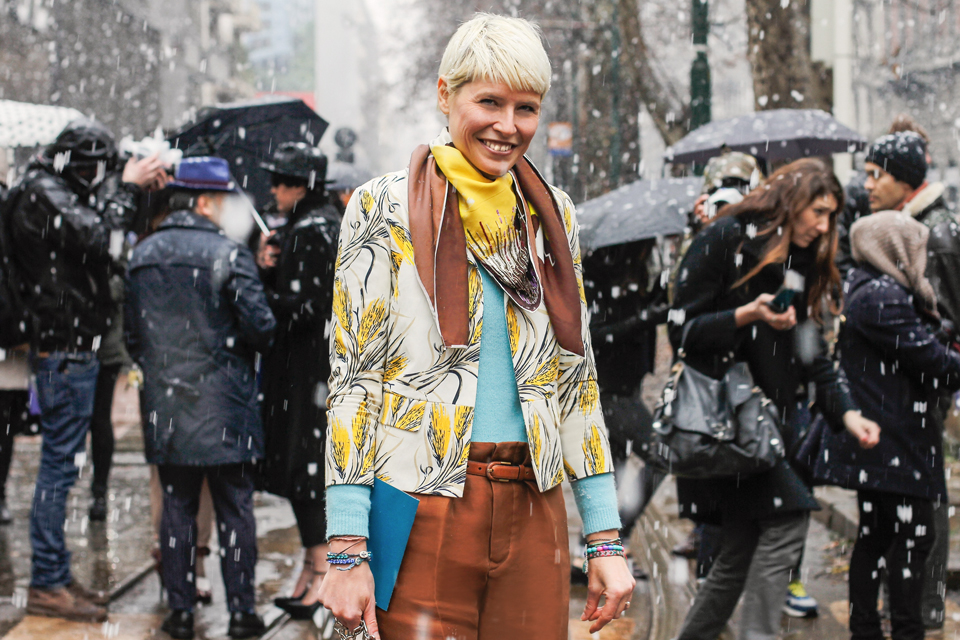 Neither rain, nor snow, nor sleet, nor hail shall keep…
Elisa Nalin from rocking out with the zippy colors and perky prints.
My backstory…
Classical studies in Verona, design school in Milan, a first job at Costume National as designer assistant and then another job as creative director at Samsonite in the shoe department. Then I got tired of living in Milan and moved to Paris to start my styling career. I began by assisting the stylist Hector Castro.
I love my job because…
Fashion is a really big passion for me. Since I was a little girl, I have always sketched women with different clothes on. It is an important way of expressing my creativity.
My style is…
Eclectic, colorful, full of textures, sophisticated but always funny. I never take myself too seriously and I am never scared to take a risk.
In this picture I am wearing…
Tory's Rimon jacket, Marni organza pants and a turquoise merino wool sweater and scarf from Ventilo.
The best fashion advice I ever received…
Be yourself.
And the best beauty advice I ever received…
Using only Dr. Hauschka products for my super-delicate skin.
My style icons…
Wallis Simpson and Coco Chanel.
My sign is…
Pisces, Taurus ascendent.