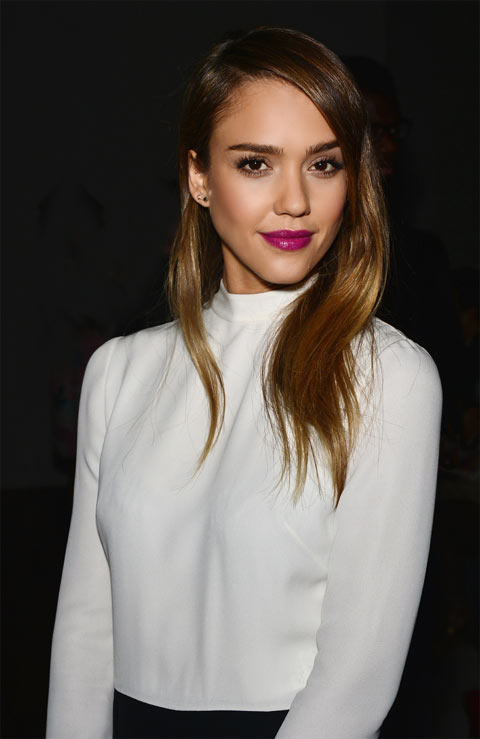 The actress, mother-of-two and entrepreneur behind The Honest Company line of eco baby and home products opens up about her new book and motherhood.
What kick-started The Honest Company?
I had an allergic reaction to this expensive baby laundry detergent. I was, like, why do I have to get this? There's no way this is safe for babies. I Googled the ingredients and found out that there were a lot of toxic chemicals — in that and everything from dishwashing liquids to baby shampoo. I learned about off-gassing and petrochemicals, the rise of allergies, asthma and all these health illnesses…. It was so overwhelming and hard to shop around the problem. I thought there should be one place for products that actually work, smell good and aren't crazy expensive.
And The Honest Life book?
It's about having a more balanced perspective about this lifestyle. It doesn't have to be extreme. I'm not a vegan. I don't wear hemp every day. You can make healthier choices that are realistic and inexpensive.
Tips for beginners making the switch to The Honest Life?
Read labels. Know what you're bringing into your house and what you're putting on your skin. I think that was the biggest eye-opener for me. You're not going to do everything right away, but understanding it and knowing that you have the power to make better choices — it's going to shift the marketplace.
Best advice you've received from another mother?
My girlfriend Kelly Sawyer, who's in the book, is the president of the nonprofit Baby2Baby and designs the private label for Satine. She taught me about putting your kid on a schedule — don't let them run you. And she told me to always have a night out. It's necessary not just for your sanity, but you get to feel like a grown-up. Be a woman with your husband, have dinner or whatever. That really changed things for me.
How were you as a child?
Crazy. I was completely insane. I was a precocious little stinker and challenged authority left and right.
And your daughters now?
They're both pretty strong willed in their own ways. I grew up in an environment where kids are seen, not heard, and I don't really do that with them. I bring [my older daughter] Honor into our environment, have her travel with us and expose her to a lot of different cultures and experiences. When I was younger, my parents didn't necessarily do that. I did it on my own by choosing to be an actor at a young age.
On the weekends, where can we find you and the family?
One day we'll have breakfast at home and one day we'll go have breakfast somewhere. We'll let Honor choose. Then we go to the park, go hiking, feed the ducks, go to the playground, things like that.
Honor's favorite breakfast spots?
Le Pain Quotidien — she likes the spicy chorizo and eggs. Or we go to this other place and she gets the matzah ball soup and pancakes, eggs and bacon. She eats like a champ. Because she's the big sister, she can make those choices so it's cool to let her do that.
And at home?
Cash usually takes over and does waffles or pancakes.
Top three mom essentials?
Hand sanitizer. And from a fashion point of view, a blazer and a ballet flat — Tory has nice ones for both of those!
As a mom, what's your de-stressing secret?
A bath. Put the kids to bed and get in the bath — it's so good. Or maybe a glass of wine, if you're feeling like that. Or both.