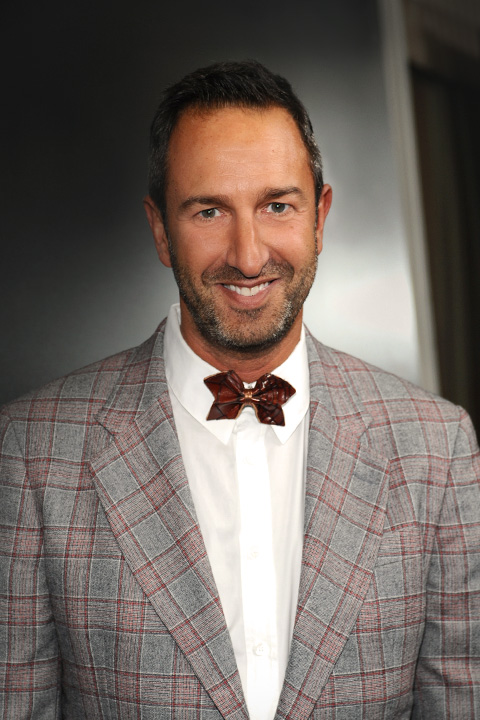 Everyone in fashion knows Christos Garkinos, co-owner of L.A. vintage and designer consignment store Decades with Cameron Silver. Now, with a new Bravo reality show Dukes of Melrose, the rest of America will, too.
What can we expect from Dukes of Melrose?
You'll see the trials and tribulations of running a real business — it's like whole milk, 99% real. You'll follow us from January to May 2012. You'll see us dressing amazing celebrities — Sandra Bernhard, Garcelle Beauvais, Dita Von Teese, Rose McGowan and Jody Watley — as well as major fashion people like Peggy Moffitt and the muses of Warhol back in the day. You'll learn a lot.
What's the dynamic like between you and Cameron?
We're like fashion's odd couple. I'm very… as you can see I'm gesturing a lot to you right now while Cameron's very much into his email. I did DecadesTwo, which was the modern part of the business, and he did the vintage (Decades); we had two separate entrances for 12 years, so it was like a long-distance relationship. I would see him maybe once a month. Then we merged and all of a sudden you're like, we dated for 12 years and now we're living together? I'll be four feet away from him and he'll email me. I'm like, "Cameron, I'm right here!"
What's the one closet, past or present, you'd love to raid?
Carine Roitfeld. Because I'm obsessed with Tom Ford-era Gucci and YSL.
Your favorite reality stars?
In my heart I've always loved Vicki Gunvalson from The Real Housewives of Orange County, the woo-hoo girl, because she's the original.
And reality shows?
I'm obsessed with Shahs of Sunset. Let me tell you why — I'm Greek, they're Persian, it's the same thing. I get them. And, I don't know if you remember this, but there was this dating game show called Average Joe with average Joes. I was so obsessed with it that when the girl didn't choose him, I actually threw stuff at the television! Then I was like, "What am I doing? That's it. No more reality TV for me." Cut to: Now I have a reality show.