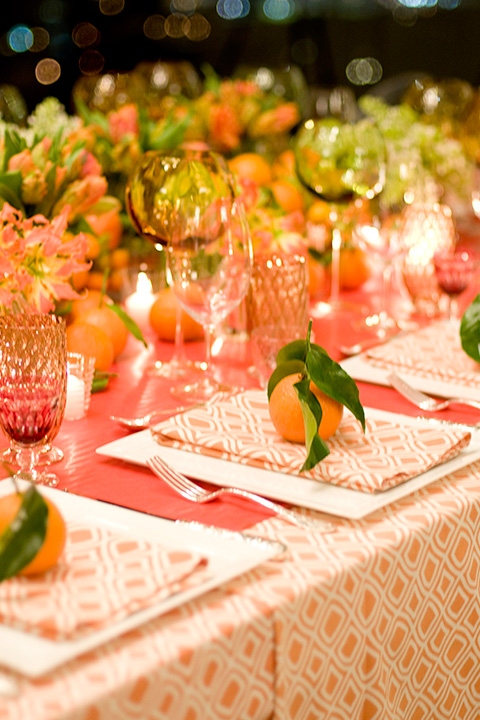 When Tory was in San Francisco earlier this year, her friend Sloan Barnett threw an intimate dinner to celebrate her trip out West. Here, we chatted with Sloan about the evening's inspiration and got her secrets to the perfect girls' night in.
What was the inspiration behind the dinner décor?
The table was modeled after Tory's orange lacquer doors. It's that feeling you get when you walk into one of her stores; they're bright, fresh and fabulous.
And the oranges play so well to that theme…
Yes. Plus, we're in California and that's the land of the orange so it all worked out perfectly.
What's the key to fitting so many guests in an intimate space?
I like to seat people very close to one another; that's just one of the things I always insist on at dinner. While it is more comfortable to be apart, it's not as much fun and it doesn't engender the same kind of atmosphere. When you're tightly packed like sardines, everyone can talk to a lot of different people. You don't have to be locked down to the person on your left or right. Everyone can have a community conversation and I think that's a lot more fun.
Why did you opt for tapas instead of courses?
It was a ladies dinner and I find women don't want to stop their talking to worry about different courses. So we served a lot of little things and kept the food coming. It's much more fun and cohesive. It was tapas but inspired by California cuisine — California tapas.
And the dishes included…
A salad of baby beets with quinoa and burrata, which was local and organic. Very tiny and delicate potato gnocchi with English peas and horseradish. A whole salted snapper — the salt crust was cracked by the chef at the table. And we had miniature desserts, one of which was chocolate soufflé. We had 20-some plates, but I can't remember them all.
What's the importance of a ladies-only dinner?
Women need each other and we support each other. We share ideas and experiences…. We just have so much fun together. It's really fun to just have girls.