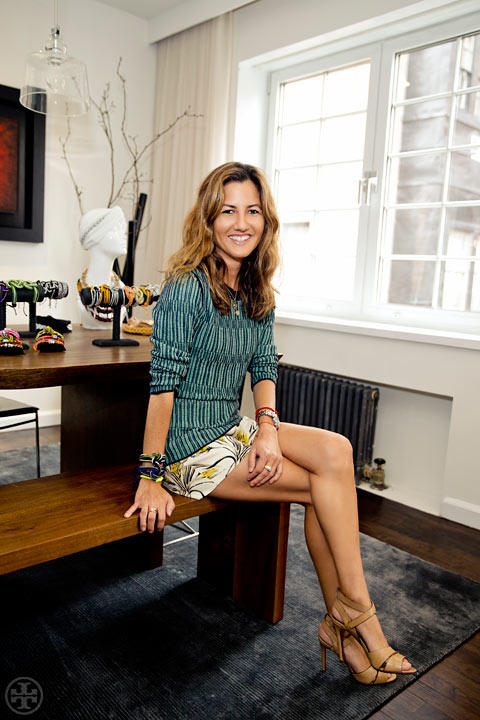 InStyle and Lucky alum Ariela Suster left the glossy world of magazines to pave her way as an entrepreneur — while doing good in her native El Salvador to boot. Last year, she launched Sequence, a colorful and crafty accessories collection hand-threaded by artisans in the impoverished town of Tepecoyo, on the outskirts of San Salvador. We got the full story from Ariela, here wearing Tory's Arielle sweater, Page shorts and Vanetta sandals, as well as her must-see highlights of El Salvador.
Sequence is…
My accessories collection, inspired by traditional El Salvadorian furniture design and hammocks and handmade by artisans there. A lot of my shapes you'll see in El Salvador in a lot of different ways, but never in jewelry. In addition to bracelets, I do these headpieces you can wear as a necklace or belt. I'm also working on a collaboration with
Melissa
shoes for May.
The Sequence story begins…
My last year at InStyle, I started to really evaluate where my life was going. I moved to L.A. and launched a denim line with a partner — it didn't really work out, but it gave me the courage to go into business alone. And I had always wanted to do something with El Salvador that had more meaning. I never wanted it to be a charity; it was important to create something that was a business and had a backbone.
I picked this name because…
It was this sequence of events that led me to finally getting here. I got to that point in my life where I could take that step. I needed all those years in editorial to learn from other designers and to learn about the business.
The story behind my workshop…
When I was looking for artisans to work with, I met this guy selling woven bracelets and necklaces on the street. I showed him my drawings and asked him if he could do the designs. He said yes and to meet him at his house, which ended up being in the middle of nowhere. There were all these tattooed guys standing outside — one of the biggest problems in El Salvador is gangs — and I thought, Oh my God, what am I doing? I was super scared. But I walked in and, on this table, they had everything made! From that crazy moment, we started working together.
Sequence gives back by…
Providing food and educational programs to the artisans we work with. In the afternoons, we give them English and computer classes. On the weekends, we reach out to the larger community and offer free art classes to the kids. Hopefully, as my collection grows, we'll be able to grow the education program and have more people from the community come.
Best part about owning your own business…
It's really been such a learning experience. I feel like I'm growing as a person and developing skills and pushing myself in a way I never could working for somebody else. Also, for me, it's knowing that what I do makes a difference in El Salvador. That's probably been my favorite part.
Best business advice I've ever received…
My dad owns very successful business in El Salvador and he is always telling me how important it is to be passionate and happy with what you choose to do. Work and life balance is always his advice. He has also always said to me to know that what I am doing can positively influence and change the sequence of so many people's lives; the desire, passion and determination to make this happen should always be stronger than all the fears, challenges and rejections you face while starting your business.
And fashion advice…
My dear friend Marc Jacobs has always said to not take fashion so seriously — and he's shown this himself. It shouldn't be about trends or what's in style at the moment. He always says there is nothing sexier than a woman who is confident and comfortable in her own skin and what she wears. Clothes shouldn't be so precious; they should be worn with life, fun and a little craziness.
My own style is…
Very easy and laid-back. I tend to go for pieces that are very much bohemian, sort of gypsy, with a lot of color and movement. I don't like complicated.
Here I'm wearing…
Tory's Arielle sweater, Page shorts and Vanetta sandals, and my own Sequence bracelets.
El Salvador makes for a great getaway because…
There's amazing surfing. The best beach is El Tunco, which has a lot of really cute restaurants. There are other parts, too — beautiful mountains, where you can do cool hikes, and this island Teopan in the middle of a lake inside a volcano crater. It's really beautiful and not scene-y at all.
My favorite restaurant in El Salvador (and what I eat)…
Punto in the Art Museum of El Salvador. Well, my mom owns it, but it actually is my favorite restaurant. There's this amazing fish with lemon sauce and these little potatoes. It's so simple and healthy, but the way it tastes…. That's the thing about El Salvador; everything is so fresh.
Next up…
I'm doing a collaboration with the Latino Commission on AIDS. I designed a red bracelet to raise awareness and they're bringing their health education programs to El Salvador. I'm also working on a documentary with Jaime Rubiano. It's about the stories of the people who work with me. And we did this really cool shoot where, instead of the usual way people show a story like this, the guys wore my jewelry dressed in full-on Givenchy and Rick Owens — it's nothing like you'd expect. The guys loved it. We'll hopefully have the first cut in May.