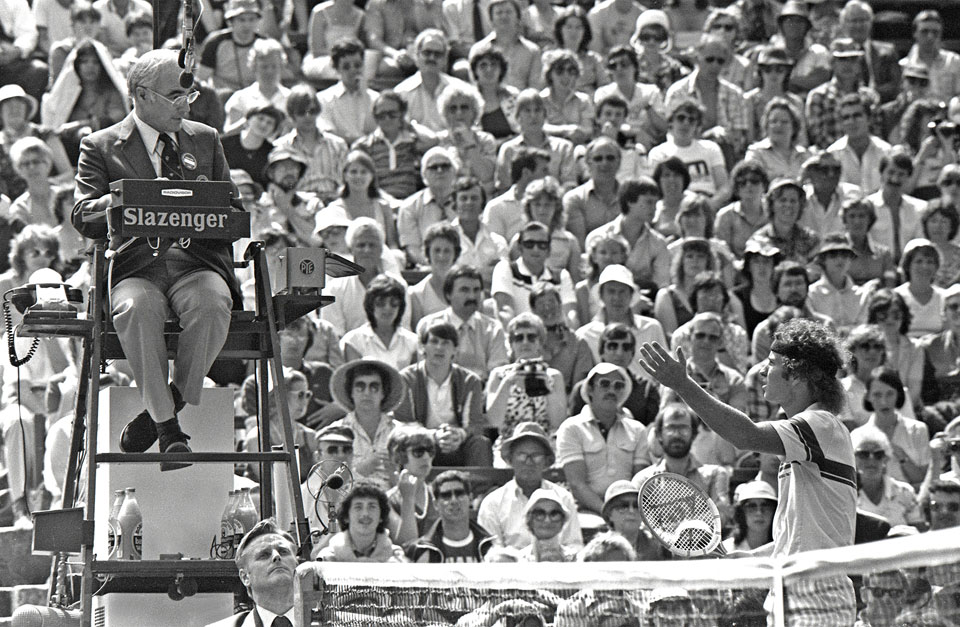 The International Tennis Federation celebrates its centenary with a new book by Rizzoli covering the sport's history. Here, a few fun facts from its pages.
IT'S A GOOOLD!

English player Charlotte Cooper became the first female — in any sport — to win her own gold medal at the Olympics when she won the women's singles in 1900.

FIG LEAF, THE FIRST TENNIS SKIRT

The first game of tennis? In 1948, ITF president John Eaten joked that the first match goes back to the Book of Genesis. "It has been argued," he wrote in the October issue of World Sports, "that lawn tennis began in the Garden of Eden when Eve 'served' an apple to Adam, which was a fault."

SUNSHINE STATE

Yellow tennis balls have the best visibility on television — thus the switch, after a little research, from white to that sunny color by the ITF in 1973. Wimbledon was the last top-level tournament to hold out; they stopped using white balls in 1985.

SHE'S GOT GAME

Ex-hubby Andre Agassi wasn't Brooke Shields' only tennis connection. Her grandfather Frank was an amateur tennis player who ranked number one in the U.S. Top 10 in 1933.

DO NOT DISTURB…PLEASE?

Tennis players at the 1924 Olympics in Paris not only had to contend with photographers wandering onto the courts during games and court-side vendors shouting about their refreshments, but the men's changing room was several hundred yards from the action while the women's, a wooden hut, was locked during play. Several members of the U.S. team threatened to quit over the conditions.

GRAF TRACK

The term Golden Slam was coined back in 1988 when Steffi Graf beat Argentine Gabriela Sabatini at the Seoul Olympic Games and nabbed the gold medal — adding to her already four Grand Slam wins that year. To this date, no one's broken her record.

COME ON, SHAKE YOUR BODY

When France beat the U.S. to win the Davis Cup in 1991 — its first title in nearly 60 years — French captain Yannick Noah led the team in a conga dance line right there on the court.

BEACH SESSION

Beach tennis, which has its origins in Italy, is actually a hybrid of tennis (the ball, the scoring), badminton (the no-bounce rule) and beach volleyball (the court size). The rackets, meanwhile, are actually perforated-yet-stringless paddle bats.

PICK A LANE

Talk about a conflict of interest. William "Big Bill" Tilden started out his career as a journalist covering the tennis beat — while he was also competing as an amateur player, which put him at odds with the U.S. Lawn Tennis Association. By 1930, after a decade or so playing, he ditched the fourth estate and went pro.