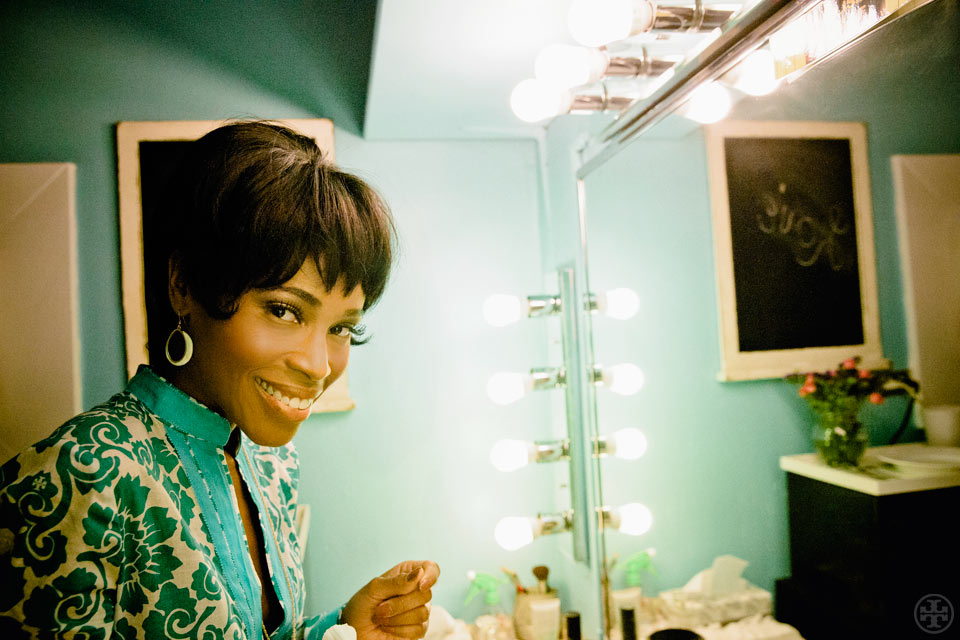 Valisia LeKae has got big shoes to fill. The Broadway actress, formerly of The Book of Mormon,
is starring as none other than Diana Ross in Motown: The Musical, which tells the tale of founder Berry Gordy and his relationship with The Supremes singer. Here, wearing the Tory Tunic, the Memphis native opens up.
Meeting Mr. Motown
The first time we met, it felt like I knew Mr. Gordy my entire life; I wasn't intimidated. Maybe that was because I'd read so much about him. He's so quick and witty; it's hard not to gravitate toward him. And he's still flirtatious — he'll kill me for saying that. Someone recently asked me, "What's the hardest and easiest thing about doing Diana Ross?" Berry Gordy. Berry Gordy is the hardest and easiest thing. He's very particular and wants everything right.
Tapping My Inner Diana Ross…
Immediately after I found out about the auditions, I read her book Secrets of a Sparrow and I read Mr. Gordy's book. Over the years, I've sung a lot of her music, so I made sure I went back to listening to her stuff and watching her continuously on videotape. By the time the auditions came about, I was fully engulfed in this woman.
…While Avoiding the Caricature
People tend to see her as this caricature, more the Eighties Diana than Diana. I do her from age 15 to 39, so I really wanted to humanize her more than anything. I just want to be honest and truthful in telling the story.
Diana Speak
Growing up, Diana's mother cleaned movie theaters so Diana would see these larger-than-life characters on screen back in the Forties and Fifties. I notice when I hear her speak, she's very over-dramatic, in a performance way — she can say certain things that sound British or a little bit Southern at times. It's all in the inflection, which I love. Because when I grew up, I loved watching black and white movies, Lauren Bacall and stuff. I can be very dramatic when I talk, like, Oh, my God, Gone With the Wind and things like that. So we share that.
Favorite Motown Moment
The Happening — it's my favorite number in the show. It starts off with the announcement of a television show — like, "ABC presents Diana Ross and The Supremes!" — and because I have such a love for every television special she did, it takes me right back to that place.
Top of the (Costume) Charts
I'm a lucky girl. What [costume designer] Emilio Sosa has done is every girl's dream. My favorite is the costume I sing The Happening in — we call it the snake dress because there are these sequined little snake figures. Everything he puts me in, I adore. As an African American woman, even though I'm petite, I do have a little cushion in the back; he nips and tucks that area and accentuates, you know, and does this little thing called the Esosa in the back of every dress. It's fabulous.
My Pre-Show Ritual
I love to listen to CeCe Winans. I've listened to her Throne Room CD every day since it came out. I listen to it and start to go into a meditation, a good peaceful quiet place.
…And Pre-Show Meal
I love Pongsri on 48th Street. I love Thai food — I'm always about a Thai salad, some spring rolls and pineapple fried rice. I've been ordering from there since The Book of Mormon.
To Ward Off Stage Fright
I don't get stage fright, but for anyone who does, just take a second or two and just find a really quiet place. Or just stand and breath and remember why you chose to do what you are doing.
Lab Coats and Liberty Land
I started singing when I was six, at church and in elementary school, but when I got to seventh grade, I went to this college preparatory school for health science and engineering. We would compete in, like, medical laboratory assisting. I spent high school on that track. I wasn't really involved in the choir, but I did spend a lot of my time outside of school performing at a local theme park in Memphis, called Liberty Land. It's shut down now.
My Diana Initiation
There's a childhood picture of me in a Liberty Land show where I'm coming out singing, Diana's Ain't No Mountain High Enough. Three minutes later, I come back out as Michael Jackson of the Jackson 5. I had my hair up so I could do a quick change and put the afro on top, throw on a vest, some tennis shoes and do my dance moves.
From a Dog's Tale…
In college, I started off pre-med and biology and then found a love of psychology, but I still wanted to perform. So I was the mascot at the University of Tennessee, Knoxville. I was, like, 97 pounds and this suit was bigger than me, with a big old dog head! Half the time, you'd find kids punching on you, but you know, it's something I loved. I got a scholarship for it, so I was very grateful.
…To Hello, Dolly!
My third year, I started performing at Dollywood. It was a 45-minute drive from the university, so I spent a lot of time traveling back and forth. I'd be in Fifties beehive hair and a pink dress, singing Dancing in the Street and Stop! In the Name of Love. It's destiny is what it is. I never got to meet Dolly, but I'm sure she'll be so proud to know she was part of this journey.
Kiss Me, Kismet
I initially wanted to be a singer. My first gig here was performing for the USO troupe of New York City. The two girls I was performing with, they were theater buffs, graduates of the conservatory and things like that. One of them sent me on her audition because she couldn't make it and that's how I got into theater — because of a fluke. It's so crazy. And what's even crazier is that the particular person I auditioned for is now the director of this show [Charles Randolph-Wright]! I hadn't seen him since that day.
My Style Off-Stage
I've gone through a number of different ones because I spent a lot of my lifetime collecting vintage clothes. Now I find myself wanting to reinvent myself and have gone through a simpler state of fashion. I really do love Audrey Hepburn — you can see her all over this dressing room; I even had these walls painted Tiffany Blue — so when I first got into this theater, I spent the first three weeks in leggings, turtlenecks of all colors, a cropped do and a good pearl. Once I'm out of rehearsals, I want to go back to my girly side, which is just a cute dress, a great heel, simple jewelry and, of course, lashes — I can't do without my lashes.
As for That Vintage Collection
I have a good 90 pieces, starting with the Fifties. The pièce de résistance is my grandmother's dress — it's a simple black dress with sequin crosses at the waist and a nice little tail at the end.
A Picture's Worth a Thousand Words
For my senior photo in high school, I wore my grandmother's suit — a fabulous Seventies peach suit with silver glitter on it and a fly collar. It's ridiculous and I can't believe I wore that in my senior picture, but that tells you about the type of person I am.
My Escape
Walking through Central Park with my dogs. I mean, I love a good life on stage — every show, I've had great costumes, great songs and great kissers — but there's nothing like a 7 AM walk in the park when the sun is coming up. It's so beautiful and peaceful.
A Surprising Something About Me
I eat a lot. I love food! I have the biggest sweet tooth — I can eat pies and cakes and cake batter for days. My weakness? Gummy bears from Trader Joe's. They have these penguin gummy bears with the filling inside — that's me at 2 AM in the morning.