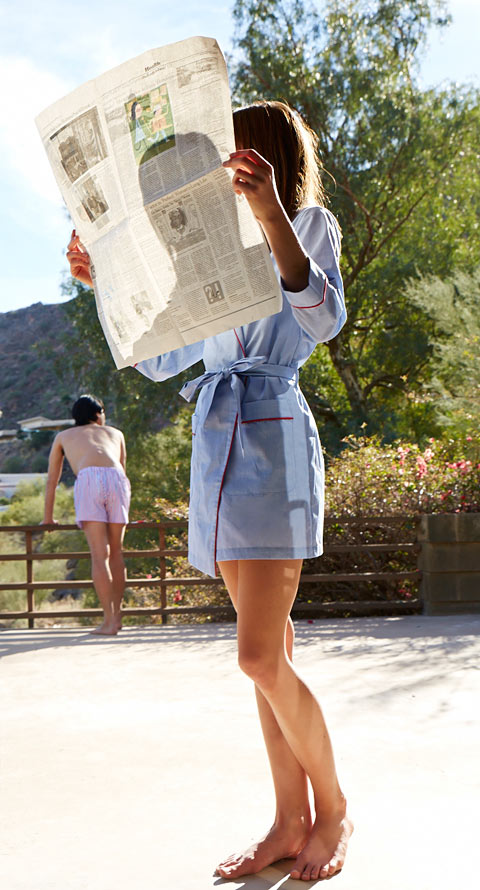 Andy Spade and Anthony Sperduti on their Sleepy Jones sleepwear line — or as they call it, "not-quite-ready-to-wear" — and shuteye style.
We chose sleepwear because…
Anthony: We believe that life has become a little too "connected" so we got excited around the idea of starting a brand that stands for those rare moments when you can just stare at the ceiling and ponder…and sleepwear seemed to be the perfect uniform to do nothing in.
The back story behind the name…
Anthony: Our studio is on Great Jones street — a storied downtown couple of blocks that's had an amazing art scene over the years — and we loved taking a slight twist on it.
On my nightstand now…
Andy: Pistachios, notepad and pen, alarm clock.
Anthony: After our 24-hour party, a BIG bottle of Advil.
Book I'm reading before bed…
Andy: Soapbox by Glenn O'Brien
Anthony: The Emperor by Ryszard Kapuscinski — it's an amazing account of Ethiopia's last monarch.
Last memorable dream I had…
Andy: Living in Africa, riding around in dune buggies.
Anthony: They all seem to be set in high school and me forgetting the locker combination…
A day lounging around the house involves…
Andy: Doing homework with my daughter, reading the newspaper and going through Instagram.
Anthony: DOING NOTHING.
My PJ-wearing role model…
Andy: David Hockney — bold prints, wide wale corduroy jacket and Moroccan slippers.
Anthony: Serge Gainsbourg