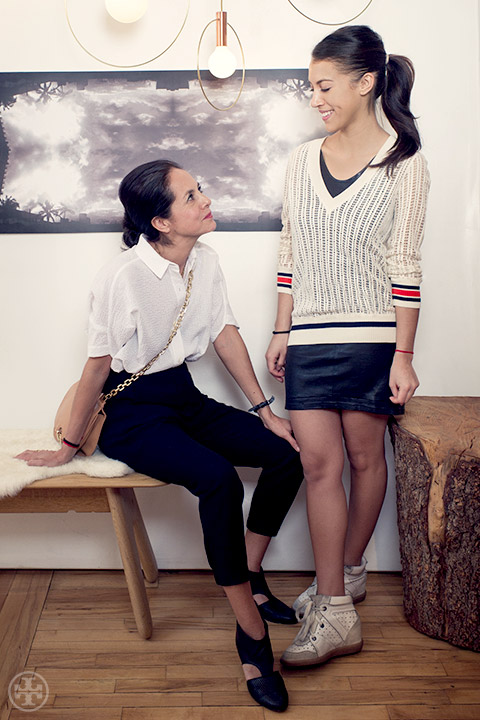 Like mother, like daughter? We put that notion to the test in our quick-fire Q&A with designer Maria Cornejo and her daughter, photographer Bibi Borthwick (here wearing Tory's Simon utility pouch and Ozzy sweater, respectively).
Best Mother's Day gift you gave your mom?
MC: Unfortunately, I don't remember, but I did smash her Chanel No. 5 bottle once.
BB: I'm not sure. I really like to make her things — little books, prints, things she can keep forever.
Favorite thing to do with each other?
MC: Dinner and a girlie movie
BB: Cuddle her; I could do that for hours.
One lesson you've learned from each other?
MC: To be proud of who I am and not to be so self critical. She is very mature and confident.
BB: Be strong, never let things take control over you. She's really taught me to be a strong woman and rise above everything.
First fashion memory?
MC: Going to see my first show, Issey Miyake, in Paris. Grace Jones was walking.
BB: I love being at my mum's shows. It's so emotional and seeing her showcase her art always gives me chills — I'm always so proud of her.
Favorite thing to borrow from each other's closet?
MC: Sneakers
BB: Her shoessssssss!
Style tips you've picked up from each other?
MC: Mixing swimsuits and African tire sandals.
BB:She's made me appreciate the construction of clothing, the textures, the scents, the way a piece of clothing can transform your energy.
Go-to shoe?
MC: My own Suni summer ankle boot for Zero + Maria Cornejo.
BB: Old Nikes.
Favorite jean?
MC: I wear my Zero + Maria Cornejo leather pants, in blue, as I would jeans!
BB: A.P.C. I have them all tailored.
Jewelry you never take off?
MC: All the gold charms that my family has given me over the years, from a Chopard diamond heart; an Egyptian beetle from my sister; an 18th century fish and pearl from my French mother-in-law when I got the Cooper Hewitt Award; a gold signet ring from my husband's family, and
three gold rings from my husband, Bibi and Joey.
BB: My rings given to me over the years; they all have their own story.
To flip flop…or not?
MC: On holidays — always!! My feet are perfect for them as
I always wore them as a child in Chile and Peru.
BB: Love flip flops! Havaianas.
What's your morning beauty routine?
MC: I wash my face with a Clarisonic brush, then I put on Shiseido Future Perfect serum and moisturizer followed by a spray of perfume.
BB: Brush teeth, shower and a spritz of Narciso Rodriguez perfume.
Lipstick of choice?
MC: Shiseido
BB: Vaseline
Best beauty advice your mom gave you?
MC: Less is more, accentuate your own best and don't camouflage your face. ;))
BB: Less is more.
Your ultimate design icon(s)?
MC: Architect Amale Andraos, Gabrielle Chanel (she totally rethought women's wardrobes)
and Jil Sander.
BB: My grandmother. She's the chicest woman I know.
If money was no object and you could
own one piece of artwork, what would it be?
MC: I have so many amazing artist clients whom I love — Cindy Sherman, Wangechi Mutu,
Tara Donovan, Elliott Puckette. I would want to have a piece from each of them and have a wall of women artists!
BB: I'm not really interested in expensive art. I'd much rather have a drawing from my mom, dad or brother. It's more meaningful to me.
Hidden talent?
MC: I speak four languages.
BB: I'm never not hungry! Hahaha.
Word you most overuse?
MC: "Great!" Or it would be "great."
BB: I smile a lot — maybe that speaks louder than a word. Haha.