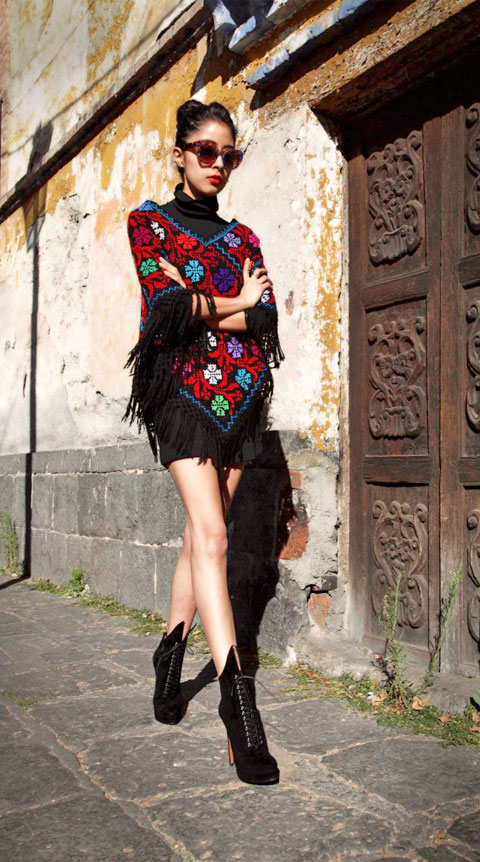 We chat with the Mexico City-born, Paris-based blogger of Chic Muse about her style influences and got her insider's guide to her hometown.
My blog Chic Muse is about…
My inspirations, travels and personal translation of the trends in the fashion world.
My style is…
Quite clean and simple, but I can transform my look into a dramatic one. People say that it's also quite exotic. For me, that is the perfect description for Mexico. My mother has also definitely affected the way I dress — she is and has always been even more dressed up than me.
First-time visitors to Mexico City must see…
The Historic Centre and the Bellas Artes palace. The National Museum of Anthropology. The Teotihuacan pyramids. The Roma neighborhood, an up-and-coming area that has galleries and shops from Mexican locals. And Coyoacán, an old town within Mexico City full of cafes and restaurants with colonial houses and traditional Mexican architecture in the background. It is also where La Casa Azul, Frida Kahlo's house and museum is.
When packing for a trip there, don't forget…
Sunblock, a map and a dictionary to get around. Mexicans are really helpful so never be afraid to ask for anything you need!
The best places to stay…
Hotel Brick in the Roma neighborhood or Condesa DF in Condesa. Polanco and Reforma are two other areas that are highly frequented by tourists, and where luxury shopping boutiques and restaurants are located.
Best places to go shopping…
For Mexican products — historical neighborhoods like Coyoacán, Condesa and Roma. For luxury shopping, Presidente Masaryk street and the Antara shopping mall.
The traditional Mexican meal…
Without a doubt, it's tacos. They are sold at hundreds of small stands and restaurants in the city so no matter where you are, ask the locals and they will recommend the best one around. However, Mexican cuisine is incredibly rich and I really encourage everyone to try traditional plates like mole, chiles en nogada and enchiladas.
My restaurant recommendations…
Maximo Bistrot, which offers gourmet dishes made with only Mexican products. (Just book one day earlier to confirm a table!) Other great restaurants include El Cardenal, Maria Bonita, Los Almendros and Paxia.
The quintessential cocktail in Mexico…
Margarita! It really tastes better in Mexico. Romita Comedor, Felix and Aleksander in Roma offer some really good ones.
What I miss most about Mexico…
Grandma's food, my family and the weather. Paris is extremely beautiful everywhere you go, but after living in Mexico, the sunlight and warm weather is an essential need for me.
One thing you can find there that you can't get anywhere else…
The food, and the warm personality of the people. Everyone is a potential friend willing to talk to you.