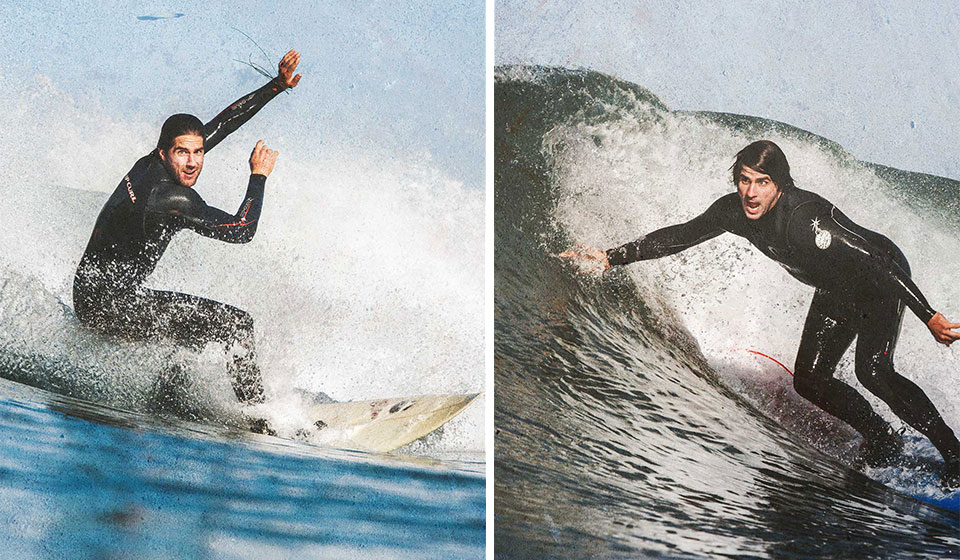 We talked to twins Mike, left, and Alex Faherty about the launch of their new line Faherty Brand,
which centers around never-ending summer living. They shared their favorite surf spots, too.
The Faherty Brand is…
MF: For us, life's great moments are at the beach. It's been our favorite place since we were kids,
growing up in Spring Lake, New Jersey. This brand is an extension of our family barbecues and summer moments and the casual laid-back vibe we grew up with.
Our back story…
MF: I worked at Ralph Lauren, but we've been talking about having a surf line since we were, like, 12 years old.
I even wrote my college essay about starting this company and having clothes you could wear in the city
that made you feel like you were on the beach.
AF: He titled it Coast to Curb. All the creative stuff is really his vision. My mind is more about the sales and inventory.
I worked in finance, which allowed me to gain a skill set to help build this fashion brand.
Our swimwear…
MF: Is made primarily from recycled materials. We're obsessed with sustainability in apparel. It was also important for our swimwear to not only look amazing and sexy, but be functional too. Girls go to the beach in bathing suits and all they're doing is pulling them up. We tested ours on girlfriends who are surfers and paddle boarders.
The best part about working with family…
MF: You're building something special and are able to share it every day with the people you love. Our mother helps run the warehouse, our sister is in charge of sales, our logistics partner is a guy we grew up with…. If you're going to have to pay someone, might as well keep it to the people you trust and love.
And the most challenging part…
MF: You see them all the time. There is no escape, even when you're in chill mood.
AF: There's no "off" time. We're always thinking about the business, which hopefully is also an advantage we have.
Best business advice we've ever received…
MF: What I learned from Ralph [Lauren] is to never waffle. You can see his eyes look at something and, in a heartbeat,
know if he liked it or not.
And our advice to working with family…
AF: Every family has a different dynamic. You have to be super-sensitive to what that is and have the ability
to know what everyone is good and not good at. There can't be any egos and the trust has to be there.
Favorite surf spots…
MF: Puerto Rico, Costa Rica (our mom used to take us there when we were kids) and Indonesia. One of my favorite surfing times was in Sri Lanka — no one was around, just me and a few other people.
Favorite beach grub…
MF: You gotta go with fish tacos. Although in Santa Monica, there's this beach shack called
Cha Cha Chicken that has the most amazing jerk chicken enchiladas.
AF: Another thing, as a surfer you tend to go to the beach early in the morning. In New Jersey, there's this place called Ray's Cafe, which is famous for this pork roll — salami, bacon, baloney, all that stuff rolled up, fried and topped with an egg and cheese. That's what everyone eats for breakfast.