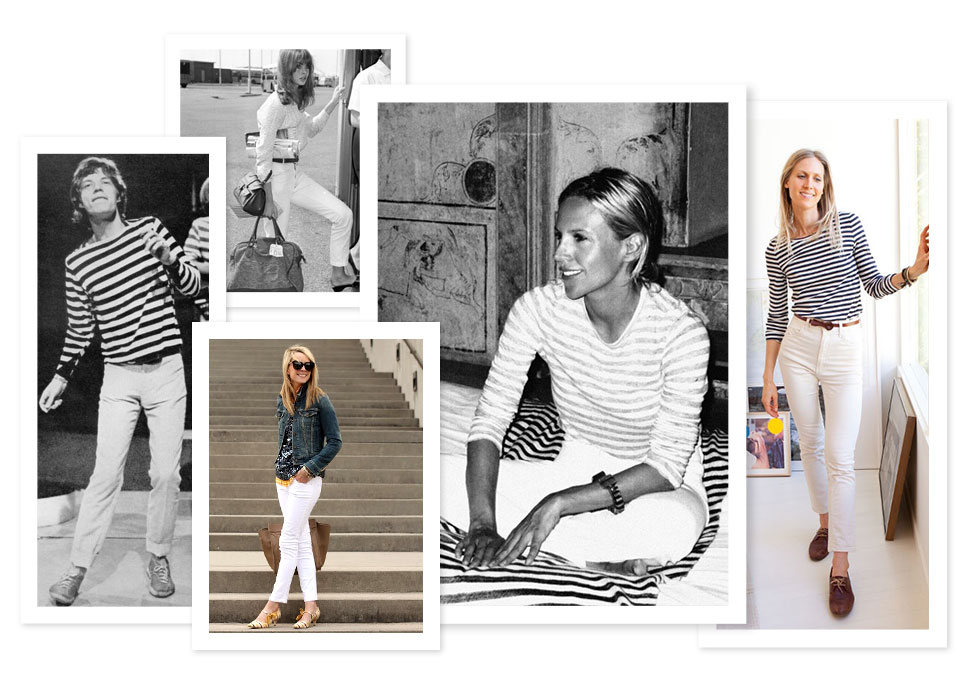 L.A. writer Deborah Schoeneman plays the part of investigative reporter
to answer that pressing question: White jeans, friend or foe?
It all started when I saw my friend brunching at Soho House. She looked amazing. It wasn't just the sheen of having recently won a Golden Globe, the unseasonably warm winter day or the flowing mimosas. She looked thinner and more pulled together than ever. She was wearing white jeans.
I had lost enough pregnancy pounds to fit into my old blue jeans, but they weren't making me feel as satisfied as I expected they would. I had become a new person — a mother — yet I looked as if nothing new had happened eight months after giving birth except I was very tired. I needed a style infusion.
Could I be the kind of woman who wears white jeans, too?
I wasn't sure. I live in Los Angeles, but I'm from New York and black, or at least dark denim, has always been my friend. I may be a tad prone to spilling food and wine all over myself. I may have not had a washer and dryer inside my home until last year. I may like to eat chocolate a lot. Sometimes while sitting on the floor.
So I test drove a pair of Tory's white jeans to
find out.
"You look skinny, honey," said my husband when I first tried them on. That's what he always says, which is at least 75 percent of why I married him.
I still wasn't ready to wear them out of the house. So, I canvassed some friends about white jeans. As it turns out, they're very polarizing.
"It's a real decision," said my stylish aunt, who prefers black pants. A trendy friend had an unworn expensive pair hiding in her closet for a year. My bold agent wore them all winter with sweaters.
I decided to try them out at a screening for The Short Game, a friend's fantastic documentary about pro golfer kids. People who like golf are probably people who wear or at least appreciate white jeans. It made enough sense to me.
At the screening, a few people told me that I looked skinny. Now, multiple factors may have been at work here because my husband stayed home with the baby. I'd been working out a lot. I'd just been sick with a sinus infection that temporarily sapped my appetite. Spring had arrived. Or maybe I'd been wrong all this time thinking white jeans would make me look fat?
I started wearing them with abandon. I hosted my first Passover seder wearing white jeans and an old friend remarked, "I love your new look." I wore them to brunch at Soho House and felt just as glamorous as if I had won that Golden Globe. I had to aggressively brush off my white denim-
clad legs after an unfortunate encounter with a salted caramel cookie right before a business meeting that went particularly well.
My new life as the kind of woman who wears white jeans was going smoothly until I wore them out for dinner with some girlfriends. As I drank my white wine to go with my white jeans, I realized I was dressed for day at night. Even in the desert climate of Los Angeles, it felt weird. Suddenly it was clear that like everything, white jeans are best in moderation. I'll continue to wear them to brunches and lunches, meetings and spring holidays. But I've learned they don't belong out at night, unless, like white shoes, it's between Memorial Day and Labor Day.
Now that I've conquered the white jeans conundrum, I'm moving on to blazers. Are they only for women who work in offices? Buttoned or unbuttoned? How do they compete with cardigans? I have a lot of questions.