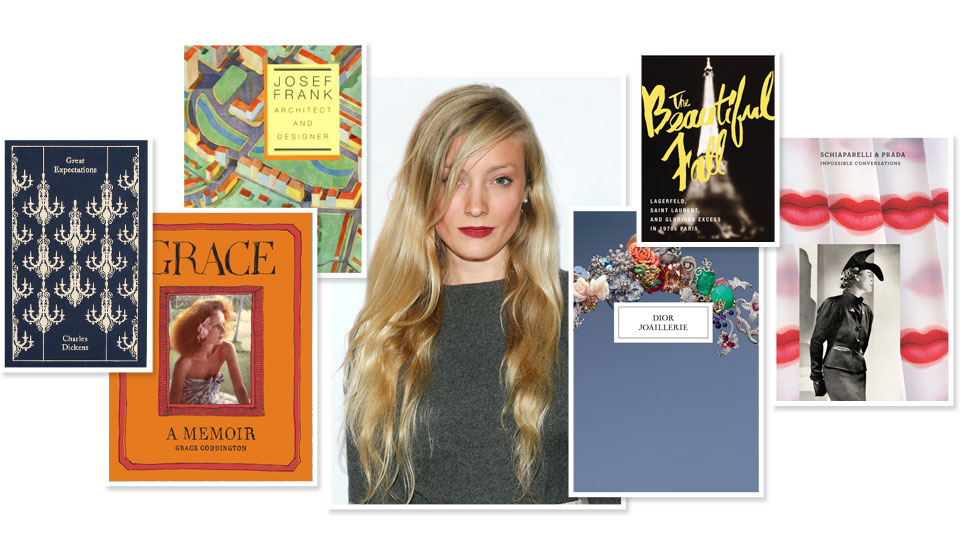 The Opening Ceremony buyer opens up about her favorite fashion reads
and reveals her literary style icon, too.
Favorite fashion read…
I just read The Beautiful Fall, which was really fascinating. It tracks the lives and careers of Yves Saint Laurent and Karl Lagerfeld.
Favorite fashion biography…
Grace Coddington's Grace: A Memoir
Book I'm reading now…
One of Yotam Ottolenghi's cook books, Plenty. It's more studying than "reading." I love the Ottolenghi restaurants in London, the food is so fresh and beautiful…. I'm not a great cook, but I'm trying to recreate this in my kitchen!
Best beach read…
Being on the beach is the perfect time to really switch off. I love to read something that doesn't have any connection to anything in my life so I can escape for a bit! Last time I was on the beach I read Gone Girl by Gillian Flynn, which was really enjoyable and easy to read!
Best books to give…
A great book can be an amazing, very personal gift, especially great coffee-table books which you might not buy for yourself. My boyfriend gave me the Schiaparelli & Prada: Impossible Conversations book from the exhibition at the Met, which I love as Prada is one of my all-time favorite brands.
Favorite fashion coffee-table book…
Dior Joaillerie by Michele Heuze is my most treasured coffee-table book. I am head over heels in love with Victoire de Castellane's incredible designs for Dior and will never get tired of looking at the beautiful photos and drawings. Every time I open the book I feel excited and inspired. My favorite non-fashion coffee-table book is Josef Frank, Architect and Designer: An Alternative Vision of the Modern Home — just because I love Josef Frank's fabric prints more than anything!
I love to read because…
It's inspiring, it's stimulating and sometimes challenging. A way to focus and shut off a little from the outside world. I love to sit occasionally and go through books I find visually exciting. I find it so amazing how this can really give you such a creative boost.
Fictional character whose style I like…
Miss Havisham from Charles Dickens' Great Expectations, just because it seems like she has an obsession with lace and white dresses (although she is in her wedding dress) just like I do!