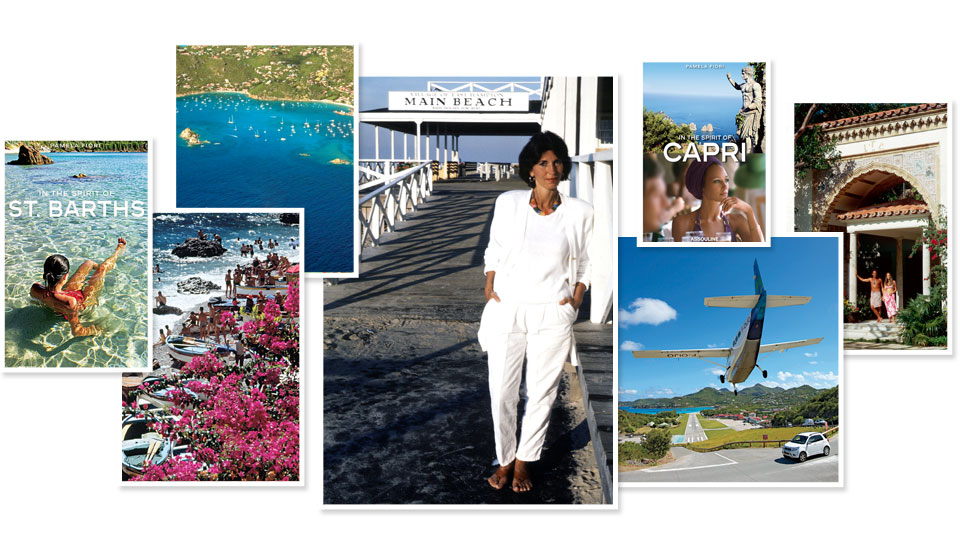 St. Barths, Palm Beach, Capri — all destinations visited and written about
by this powerhouse writer. With Assouline's latest Hamptons guide, for which Pamela wrote the foreward, she opens up about the locale and dishes more travel (and literary) recommendations, too.
One thing I can get in the Hamptons that I get can't elsewhere…
Complete and utter privacy in the comforting embrace of nature.
Must-visit destinations there…
Georgica Pond, Mecox Bay, Montauk Lighthouse, Main Beach (early morning or late afternoon), Sammy's Beach at sunset. For art and culture: Guild Hall in East Hampton and the new Parrish Museum in Southampton.
And must-visit restaurants…
I tend to cook at home, but when we do go out it's to simple places like Fresno's, East Hampton Point and Tutto il Giorno in Sag Harbor. Every once in while we'll go to Gosman's Dock and to Sunset Beach on Shelter Island for the setting. The food is almost always beside the point.
Book I'm reading on my travels now…
It would be You Might As Well Live (a biography of Dorothy Parker) and, as a companion, The Portable Dorothy Parker.
Favorite place in the world to get away from it all…
Aside from East Hampton, it would have to be one of my three favorite islands — Capri, St. Barths or Palm Beach — all of which I've written books on for Assouline. Like the Hamptons, they offer both natural beauty and unapologetic glamour.
When packing, I never forget to bring…
My laptop (a MacAir), my iPod, my BlackBerry (I'm a loyalist), my husband and Bunny, our cat.
Best beach reads…
I never read junk and may be the only woman alive who has not read Fifty Shades of Grey. Give me a Penguin Paperback Classic any day or any of several volumes of New York magazine's book of crossword puzzles and two or three pens and pencils with erasers. I also don't have a Kindle, although my husband has an iPad but rarely reads on it.
My favorite authors…
F. Scott Fitzgerald, John Cheever, Ian McEwan, William Trevor, Edith Wharton, Henry James and, recently, Dawn Powell.
Most treasured books on the bookshelf…
Men's Lives by Peter Matthiessen and first editions of In Cold Blood and The Fountainhead (not Atlas Shrugged!)
I keep books…
Everywhere — on the coffee table, on side tables, on round tables. We are bibliophiles, big time. A home without books is a house without a soul.
One book every person — but particularly women — should read…
Aside from The Great Gatsby, the classic du jour? I guess it would have to be Tolstoy's Anna Karenina (skip the movie) or The Portrait of a Lady by Henry James.