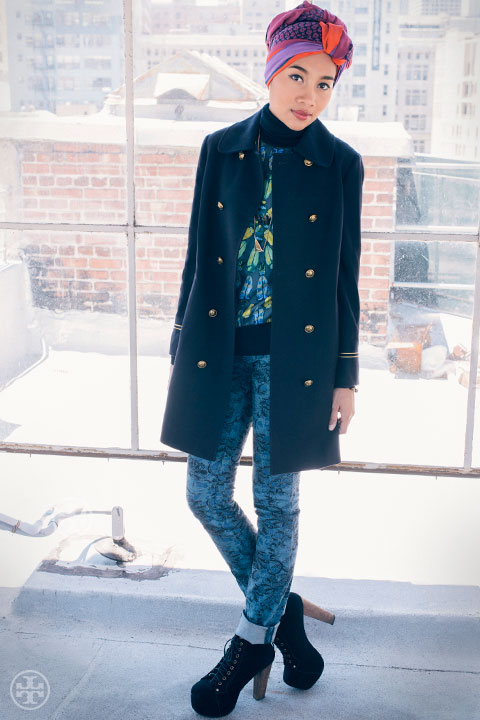 Malaysian singer-songwriter Yuna, who's making a splash on Stateside shores, talks to us about her music and second gig as a fashion retailer.
My inspirations…
Françoise Hardy. Patti Smith. My grandmother. Everybody who lived in the Sixties.
My sound is…
I'm a singer-songwriter diving into the world of pop, soul, R&B and jazz…
The soundtrack to my life…
Bitter Sweet Symphony.
My style on stage and off…
Comfortable and colorful. I love prints. I love stripes. I wear the headscarf all the time, so everything else would have to match it.
Right now I'm wearing…
Tory's Wren sweater, Ivy Super Skinny jeans, Grayson coat, Halland silk scarf and Jeffrey Campbell boots.
My pre-concert ritual…
Calling my mom!
My store IAMJETFUEL in Selangor, Malaysia…
IAMJETFUEL was a chat name I had as a kid when I would go online and stuff. After that I started a blog selling all of my pre-loved stuff…and it eventually became a store. Now we also have an online store — it's been around for five years.
My music and style icons…
Gwen Stefani. Françoise Hardy. Sade. Björk.
Bands I'm currently obsessed with…
Quadron. Coco (the singer) is amazing. I also love Foals.
My fantasy collaboration would be with…
Coldplay. I love them.
If not a musician, I'd be…
A lawyer! Or a teacher.
Next up…
I'm currently working on my second album, out in October. I'm excited about this project because I worked with a lot of cool producers and I can't wait to share the new stuff with people. I am also going back to Malaysia for a little bit to be with my family and to perform a concert with the local orchestra. Then I'm going to come back to L.A. for the album launch and tour!