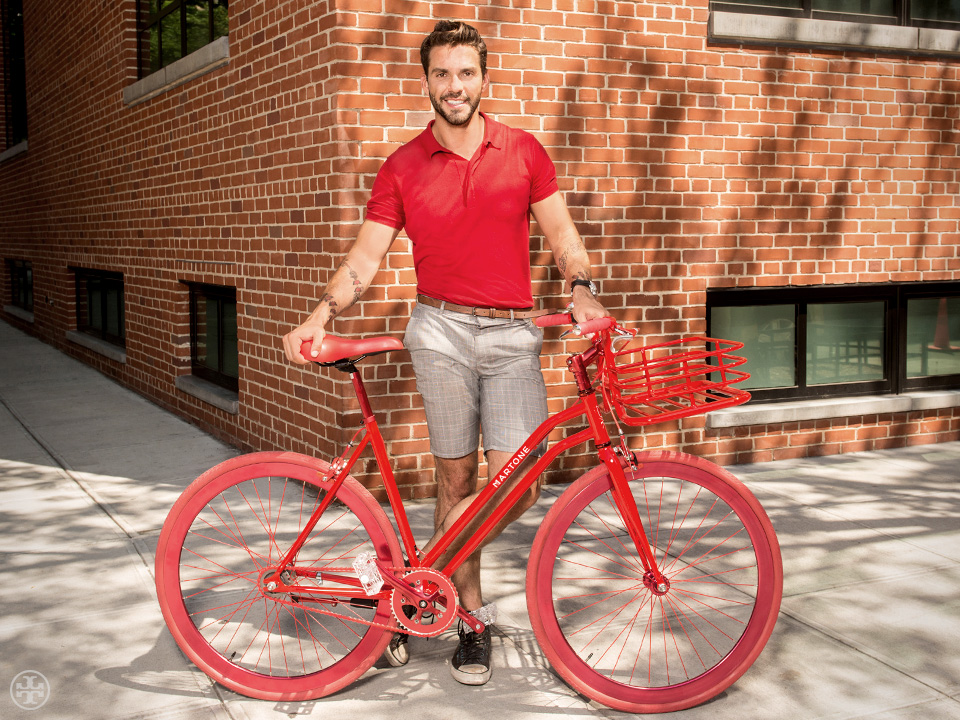 Lorenzo Martone, head of his own creative agency,
talks to us about his new line of bikes Martone Cycling.
Martone Cycling began when…
I moved to the West Village and started putting my old bike in my living room. I was annoyed by the way it looked because I collect Mid-Century Danish furniture and the bike was just not making any sense there. So I started this company because of a visual need. But then I started falling in love with so many layers of this project — bikes are sustainable, they help you lead a healthier lifestyle and remind you of your childhood. It's been a gift to work on something that has so many awesome positive connotations for everyone.
The story behind the signature red chain…
At the time, I was reading about all the trademark drama between Christian Louboutin and Saint Laurent over the red sole. It was so funny to see how brands try to own colors and reference something that already existed — go back in fashion history and you see that red soles were already in France in the 15th and 16th centuries. So this was really a wink to the fashion industry.
Most exciting part about owning your own business…
Being able to apply your own vision. I have this dream of creating something people truly love that's also making their lives easier.
And the most challenging part…
Are people going to like what I'm doing?
And how I overcome that challenge…
You don't. You hope people like it. If you compare it to the fashion industry, designers put together a collection with the same fear — you don't know if people are going to like it or not. But I guess the way to overcome it is through feedback. I read all the emails to the site and we've been getting a lot of people on social media tagging us on their bikes, which means they're happy.
Best business advice received…
To create a great business all you need is, in this order, a good idea, good people and some money. One of my investors Christina Bicalho — who gave me my first job when I was 20 at STB Student Travel Bureau, back in Brazil — told me that. She showed me that if you have a good idea and good people, the money comes.
Style tips for the bike rider…
Wear bright, happy colors for safety. But, really, you can wear whatever you want. When we designed my bikes, I made sure it allowed for a straighter posture. Because for girls, when you ride a lot of other bikes, you have a very bent posture and I felt this wasn't very elegant; you don't want to be flashing anyone.
And my advice for the city rider…
Always look straight ahead. Don't look back too much. If you're cycling at night, it's important to have little lights in the front and back. Wear a helmet. Respect pedestrians and cars. And I always tell people you shouldn't use a bike if you're running late; get in a car or the subway. You should take your time to ride a bike properly and safely.
What's next…
In September, I'm launching a small line of accessories. It's a mix of bike and no-so-bike accessories — helmets, lights, fenders as well as bike-inspired bracelets, necklaces and key rings. Some helmets will look like baseball caps; others, like horse-riding hats. I think it will be fun.