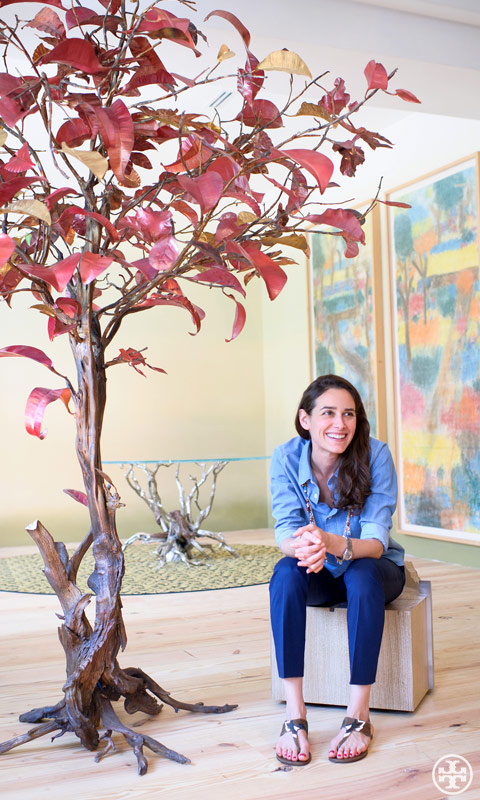 We chatted with Ambra Medda, Co-Founder and former Director of Design Miami/, about her new L'ArcoBaleno shopping site devoted to all things — what else? — design.
The story behind the name…
L'ArcoBaleno is "rainbow" in Italian. We wanted to present the whole diversity and spectrum of design, from technology and science to fashion, food and furniture. And the word sounded really beautiful and that feeling of looking up to the sky and seeing a rainbow is, I would say, pretty beautiful and exciting, too.
I decided to go into the digital space after Design Miami/ because…
After Design Miami/, I took a little time out to figure out what I really wanted to do. I thought about doing a concept store-meets-events space and laboratory of ideas, but the more I actually started to plan out the events and shows, I realized it was a shame to present it in one space and make it only accessible to a few people. If you really want to support emerging talent and push design discourse, you want to have the widest reach. So I started to explore doing things online. It made the most sense.
Art sites I regularly visit…
Dezeen and a lot of underground stuff, like this blog I found called Walalaland. I can't even explain it — it's totally wild and insane, like a disco party for your eyeballs.
Favorite places to view art…
Neue Galerie in New York, London's Victoria and Albert Museum and Brera in Milan.
My go-to look for art events and openings…
Something simple, like a Sixties simple-cut dress.
Right now I'm wearing…
Tory's beaded tassel rosary necklace, an A.P.C. shirt, Gucci trousers and Carritz sandals.
Emerging design talent I recommend…
There are a lot. Furniture designers Max Lamb and Ana Kras. Sosolimited, a design collective that works with technology. Jack Craig, who creates these pieces with PVC pipes that are very unexpected and beautiful. PetLamp, these Spanish guys, who turn recycled bottles in Colombia into lamp shades. And we have these armchairs by Yukiko Nagai that look like they're upholstered in fabric but are actually tiny ceramic mosaics. She's amazing.
Advice for would-be collectors…
Look at the whole spectrum of design and ask lots of questions. Do your research. It's like renting an apartment or buying a house; you have to really look at a lot to realize what you want and don't want. But first and foremost, follow your instinct and buy what you love. You can buy for investment, but at the end of the day, you have to live with these things; you should just buy what you want to be around.
Best career advice I've ever received…
Shut down everything that is happening around you and connect with yourself — don't get derailed or confused by people or their expectations.
Good design is…
Endless. I always question whether something will survive time. If you manage to create something or buy something you will never tire of, I think that is excellent design.