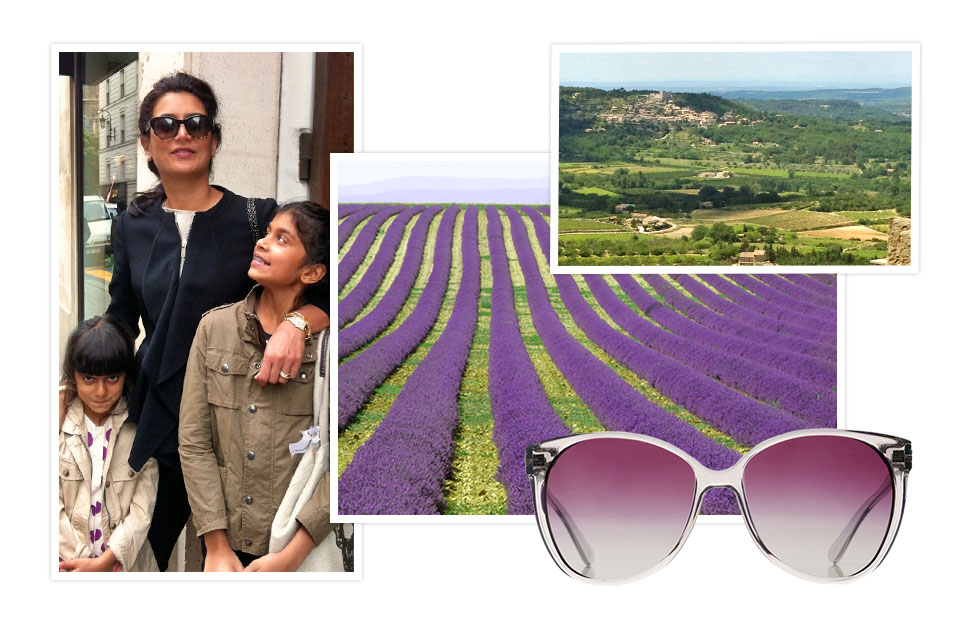 The Co-Founder and Creative Director of fashion label Sachin + Babi and home collection
Ankasa reports back from a recent trip to the French countryside.
Favorite time to visit Provence…
Late spring when the lavender fields are in full bloom. The breeze carries in the lavender smell!
My uniform there is…
Simple, especially when I'm traveling with my two girls. So great flats, day-to-evening flowy dresses, canvas jackets, big sunglasses and lots of hats and scarves! I also love to layer tons of turquoise, coral and gold jewelry.
Where we stay…
A beautiful bungalow in the small village of Roussillon. It's a 30-minute car drive to the wine country.
During the day I like to…
Take strolls in the local village and visit the local fairs.
And in the evening…
We loved picking up local meats, cheeses and veggies in the markets and then bringing them home for dinner. Sachin prepared and marinated the meats and grilled a lot.
My daughters love to…
Explore and swim! Since the days are so long, they were able to swim till late into the evening!
Favorite game to play…
Charades, Scrabble and my girls' favorite game is called "Headbands." And "Who Am I" — it always ends in laughs!
Favorite restaurant…
La Colombe d'Or in Saint-Paul-de-Vence — the art collection was magnificent! We ordered the baked fish and a few other fresh seafood options, which were heavenly!
Best view…
Was from Gordes, a very beautiful old village, perched on the southern edge of a high plateau. All of the buildings are made of a beige stone that glow orange in the morning sun.
Secret only a local would know…
The best way to get around is on a bike.