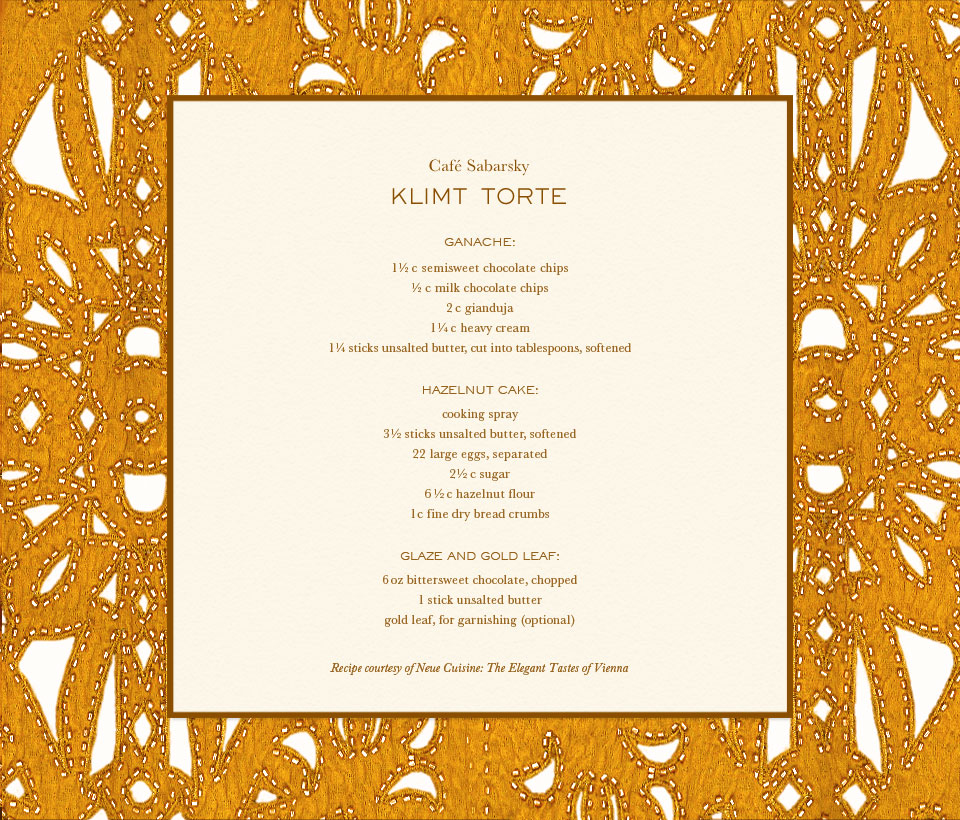 Directions:
Aside from the ingredients above, you'll need three large bowls and six baking sheets. Note that the ingredients for the cake batter are divisible by two, which means you can bake this dessert in two batches at home. The cake can be refrigerated for up to 3 days.
1. Heat oven to 325°. Lightly spray six 12-by-17-inch rimmed baking sheets with cooking spray. Line bottoms of the pans with parchment paper and spray it.
2. Make the ganache: In a large bowl set over a saucepan of simmering water, or in a microwave, heat semisweet and milk chocolate chips with gianduja until just melted. Remove from heat and stir until smooth.
3. In a small saucepan, heat cream over high heat until bubbles appear around edges; remove from heat. Using a rubber spatula, stir 1/3 cup of hot cream at a time into melted chocolate until mixture is very thick and shiny. Let mixture stand for 5 minutes, then stir in butter until smooth.
4. Refrigerate ganache for 20 minutes. Then let stand until spreadable before using.
5. Meanwhile, make the hazelnut cake: In a large bowl, using an electric mixer, beat butter at medium speed until creamy, about 3 minutes. Add egg yolks, two at a time, beating after each addition until smooth. Continue beating until mixture is pale yellow and creamy.
6. In another large bowl, using clean beaters, beat egg whites at medium speed until slightly thickened and foamy, about 2 minutes. Gradually add sugar and beat until the whites hold medium peaks, about 5 minutes. Using a rubber spatula, stir one-third of beaten egg whites into yolk mixture to lighten it. Gently fold this mixture into remaining egg whites just until smooth.
7. In another large bowl, whisk the hazelnut flour with bread crumbs. Fold into wet ingredients until smooth. Tip: If the whisked hazelnut flour and bread crumbs form clumps, work mixture through a sifter or medium sieve.
8. Using an offset spatula, spread one-sixth of batter in each prepared pan. Transfer to oven and bake until cake is lightbrown, about 12 minutes. Remove to racks and let cool completely in pans.
9. Using a plate or a pot lid as a guide, cut each cake into two 8 1/2-inch rounds. Set one of cake rounds on bottom of a 9-inch springform pan. Using an offset spatula, spread about 1/8 inch of ganache on top (the same thickness as the cake). Set another round on top and repeat layering with remaining ganache and cake rounds, finishing with a layer of ganache. Refrigerate overnight.
10. Using a blowtorch, heat sides of pan to release cake and remove sides of the pan. Freeze until ganache sets again.
11. Make the glaze: In a double boiler or a medium bowl set over a saucepan of simmering water, or in a microwave, heat chocolate with butter until just melted. Remove from heat, stir until smooth, and let cool slightly. Remove cake from freezer.
12. Pour glaze over top and sides of cake, then spread it evenly all over cake. Refrigerate cake until glaze is set, 5 to 10 minutes, before serving.
13. Transfer cake to a cake plate. Crumble gold leaf on top, if using, and serve.
Bonus:
A great use for leftover ganache is to make truffles. Form tiny balls using a melon baller and freeze until set. Remove ganache balls from freezer and roll in unsweetened cocoa powder before serving.